Wine may not seem an obvious topic for a blog called "SmarterFitter", especially when this time of year many people banish alcohol completely after weeks of holiday excess. But alcohol – be it wine, beer, cocktails, or home-brew cider – needn't be the enemy of all things good, especially if you drink as you should eat: mindfully, with care and attention to flavor and provenance. In fact, I assert that alcohol can be a companion to a healthy (and happy) lifestyle, a topic which I'd like to give more attention to here at SmarterFitter. So I'm very grateful to have my friend Mr. Neil help me kick things off with a tale of our Christmas "vin tour de France".
I mentioned in a previous post that I spent the holidays in France with my friend Kate Hill of Kitchen at Camont. Christmas itself saw a much anticipated reunion with our dear friend Mardi of eat live travel write who Kate and I both first met in August 2012 (see My Food Story from Gascony). This year, I finally met Neil, Mardi's husband, and a true wine enthusiast of the best kind. Neil's attention to wine parallels his attention to the things that are served with it: the food, the place, the people. As such, Neil was a natural choice to take on the responsibility of picking the Christmas wines. Neil took on this task with an enthusiasm that pleasantly caught me off guard. He not only picked outstanding wine matches for each course of our challenging hodgepodge menu, but he also took us on a tour of France. I learned so much, and was reminded of how much better wine can be when given just a little thought and attention, both as you choose it, and as you drink it. Some of the picks had me flabbergasted (there will be a separate post in tribute to the Cotes du Jura and giardiniera match). But I will let Neil tell this tale of Christmas past in this guest post.
Many write about pairing wine with a specific dish. There are several different methodologies to pairings, but I put them into five main groups: regionality, weight, acid/tannins, flavours (sauces, seasonings & spices) – and personality.
The first three are fairly self-explanatory. Especially when dealing with the Old World (areas with winemaking traditions stretching back more than a century), wines have often evolved to match the local cuisine. With weight, a light dish likely won't pair well with a heavy wine, or vice-versa. Acid (whites) and tannins (reds) are similar to weight, but have a bearing on foods as well, in a more complex way.
Wine flavours can complement or contrast with food. Both offer differing approaches in pairing. While complementary flavours are more traditional, some daring contrasts work remarkably well. Have fun experimenting!
The elusive fifth aspect is what I call personality: it's the creative element that dances above all the rest. It could include history of food & wine, past wine encounters that trigger memories with the meal…a plethora of possibilities where you can have fun. (A dinner party for a friend? Choose wines that all have labels in her favourite colour.)
This Christmas, I was presented with the opportunity – some would say challenge – of pairing wines for a full Christmas day feast for seven at the wonderful Camont kitchen in the countryside of Gascony. The meal itself was somewhat of a collective, with elements prepared by four different individuals, to be savoured at a leisurely pace over many hours.
With the above five factors in mind, I set about creating some inspired match-ups.
The first decision was simple: I chose to celebrate France, thereby imposing that all wines would not only be from the country, but that they should cover a wide range of the country geographically, if possible.
On the personality front, I wanted to mix some more established pairings with something a little less expected – something for people to talk about.
On arrival, there was much final activity in the large kitchen, with everyone pitching in to complete an appetizer or contribute to a dish. What better way to get a gathering in a celebratory mood than with some fizz?
Champagne is the obvious choice, of course: but France produces quality sparkling in most wine regions. Using local grapes, they are often made in the same traditional method, with secondary fermentation in the bottle. I chose a Crémant de Limoux from the Aude. Domaine de Mouscaillo (NV) was just over two hours away by car, giving us a (relatively) local start to our wines. Made from Chardonnay, Pinot Noir and Chenin Blanc, it features two of the main grapes in Champagne. Zero dosage, this "brut nature" bubbly is bracingly dry – just the thing to whet the appetite and accompany pre-meal nibbles. This featured a bright nose of green apples and lemon, with a medium-fine bead. On the palate, green apples were most evident, with an undertone of golden delicious providing a second layer, with a hint of freshly baked baguette. Crisp and refreshing, with a citrus finish. A delightful start to the afternoon!
When we finally sat down, our first course was a bit of a mélange, all fresh homemade fun but not entirely coherent on the flavour profiles: latkes, beet latkes, savoury crackers, giardiniera, chili currant jam, vegetables platter, ranch dressing. An absolute matching nightmare!
I had been built up prior by Monica on the secret Chicago family giardiniera recipe, so decided to focus on that as a leaping-off point. Pickled things are difficult at best, as many wines would be lost and overpowered. I opted for something bold, in a vin jaune made from the Savagnin grape. The 2008 Domaine Macle from Château-Chalon, Côtes du Jura (in the far east of the country, bordering Switzerland), is aged a minimum six years, three months in wooden casks prior to bottling. Only partially topped up during this time, a layer of yeast (or voile) forms on the surface. Sherry-like via yeast and oxidation, these unfortified robust wines have a lot of leeway with foods, and I thought would have the strength to battle pickled items, and hold its own. This was a fine example, deep gold with notes of almond, bread dough, and a lingering sweetness. On the palate, the wine is dry, with a creamy mouthfeel while still remaining somewhat light. Tastes of bitter almond, marzipan, and a salty/briny finish. Not as aggressive as Sherry, this was an absolute treat – and managed to pair with the giardiniera quite well.
Here at Camont, "free range" or "organic" mean much more than at your local grocer's. Produce is truly of the land, and nowhere is this more noticeable than with the meats and poultry. A local turkey was roasting, browning and crisping beautifully in the oven, relinquishing sufficient juices for tasty gravy as well. A decidedly easier pairing!
Here I took the traditional route, and took the diners to Bourgogne. Burgundy Chardonnay and Pinot Noir are both excellent matches for turkey. The white was a 2011 Château-Fuissé, Pouilly-Fuissé Tête de Cru. This is a blend of grapes from over 20 vineyard sites, vinified separately to make the "top blend". Light golden in colour, with notes of white flowers, almond, honeysuckle and light caramel. On the palate, luscious in the mouth, with bitter almond, citrus, and a medium-plus finish. The red was a 2008 Propriété Desvignes, Givry 1er Cru "La Grande Berge". Light red with garnet hues, this had a lovely perfumed nose of tart cherry, slight earth, herbs and a hint of smoke. On the palate, silky tannins are balanced through a long savoury finish, wild strawberries evident. Both these wines were excellent Bourgogne examples, and both worked well. The gathering seemed split over preference for white or red. I think with all the fixings the Chardonnay performed better; with just the (dark) meat, the red.
At this point in the lunch we had a break…but the entire affair was at a most leisurely pace. No over-stuffed souls here – lots of room for dessert. The star attraction was Mardi's chocolate-topped coeur à la crème. As with sparkling, France has a wide range of dessert wines. Desiring something red, I opted for a region lesser-known than Sauternes. We travelled to the far south of Roussillon, near the border with Spain. The 2011 Domaine de La Rectorie, Banyuls, Cuvée Léon Parcé, is a vin doux naturel. Made from 100% Grenache grapes, alcohol is added to the must during fermentation, keeping sugar levels naturally high. At 16% this is not as heavy as a Port, and while the nose is similar it had a much more savoury note of allspice and rosemary along with dried red berries and baked caramel. Smooth on the palate, with red currants and gooseberries adding a tart note; the tannins balance the residual sugar. Long- finishing, this lingered and paired with the dark chocolate nicely without being too heavy.
With that, our own little Christmas vin tour de France was over. All in all, our pairings proved a worthy match to a most delicious meal amongst friends. And really, that last accompaniment is what really matters in any meal.
Mr. Neil
December, 2014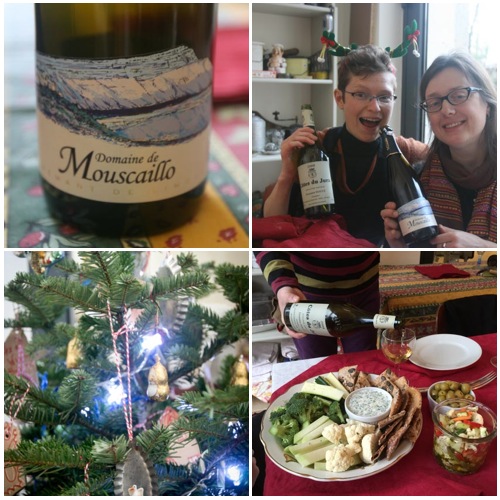 Thank you again to Neil for encapsulating our Christmas journey in food and wine – truly a Christmas to remember and I am forever grateful that I have this write-up so that I can relive the experience whenever I wish. I aspire to be able to taste flavours like "baguette" in my wines. If you, like me, want to get better at this wine tasting stuff, have a read of Neil's Wine Tasting Tips for Everyone on his website, Vincetera.

And for further reading…