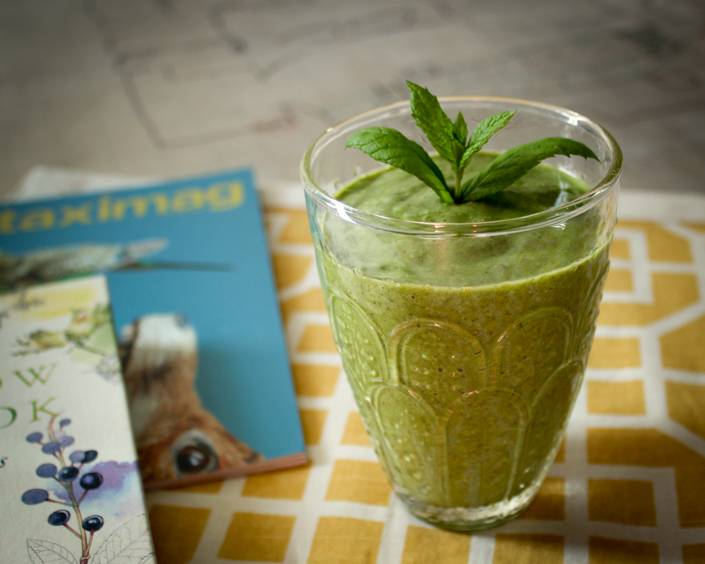 My friend Emily has been making (and enjoying!) my Shamrock Shake recipe from my book, Smarter Fitter Smoothies. And since today is St. Patrick's Day, I thought it was about time I share this healthy vegan smoothie on the blog for all the world to see.
I'm not sure what it says about me that I am so nostalgic for a milkshake made famous by a certain fast food chain whose name begins with "M" and ends with "s". But there you have it. And there's no need to feel bad about drinking this "milk"shake – it's totally vegan, relatively low in sugar and full of healthy vitamin-rich greens (the smoothie gets its green color from spinach). Feel free to toss in some avocado for an extra dose of creamy green goodness.
Healthy Vegan Shamrock Shake
1 ripe banana (preferably frozen, ~120g)
1 cup spinach (~50g)
A few sprigs of fresh mint
2 dates
10 cashews (~10g)
a few ice cubes
water, nut milk or coconut milk for an uber rich Shamrock Shake experience
Combine everything a blender (I use a Froothie Optimum 9200) with enough liquid to blend and blitz until smooth. Garnish with a couple fresh mint leaves if you'd like.
215 Cals, 5g Fat, 44g Carbs, 4g Protein, 5g Fiber
Image credit: Emily L.W. Kern