"Breakfast Club: Because breakfast should be more interesting than tea and toast or coffee and cereal."
If you follow me on Twitter, Flickr or SmarterFitter Daily then you know I'm all about awesome breakfasts. People have wondered how I have so much time for some of my early morning creations. My answer: leftovers. I'm always turning leftovers into breakfasts. Add a poached egg here, or a tortilla there, and boom: last night's dinner become an easy but wonderful breakfast.
So why am I talking breakfast leftovers? This month I am hosting the Breakfast Club for my friend Helen at Fuss Free Flavours. The theme for this month is – you guessed it – LEFTOVERS. I want to hear all about your amazing ideas for turning leftovers into awesome breakfasts.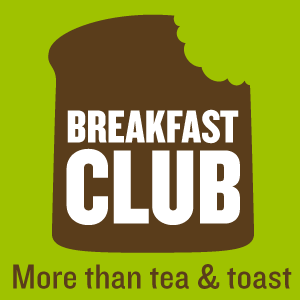 To kick things off, here's a few of my ideas for turning leftovers into great breakfasts:
Take leftover lentils, chilli, or any kind of bean dish and add a poached egg on top. Fagioli all Uccelletto (pictured above) is perfect for this. Add a bit of good crusty bread and you really have it made.
Poached eggs also work nicely on any leftover vegetables, particularly roasted vegetables or, my current favourite, braised carrots.
When I'm cooking a lunch or dinner that involves sauteed veggies, I always sauté extras and use this in the morning for a quick omelet, or added to scrambled eggs (or tofu, or fish) for breakfast tacos. Case in point: vegan breakfast tacos, awesome with good salsa and avocado.
Indian food is a favourite, particularly dal, to which you can easily add whatever veggie you like while you're heating up the veggie. I like to think of this as savoury breakfast porridge. This yellow pea dal is one of my favourites for this purpose, and it's a real treat if I have chapattis and pickles on hand to go with it.
Lately I'm cuckoo for Kadhi, a spicy, yogurt-based soup that's super adaptable to any and all matter of additions – be it vegetables, rice, potatoes, paneer, and so on. The yogurt factor makes it feel especially breakfast-like. That and its inherent yumminess.
Keep boiled potatoes around. They're super handy, sauteed with onions and eggs (or tofu!) for a quick breakfast hash.
I also like to use leftover boiled potatoes and fish for a quick breakfast salad.
Another recent favourite is using leftover rice or other grain to make a quick salad with fruits, nuts, herbs and anything else I feel like.
For me, one of the keys to making leftovers exciting is to serve them a bit differently than I did for dinner, so as to create a whole new meal rather than something that sounds as boring as "leftovers". So if I had chilli the night before with cornbread, I'll have it in the morning with tortilla and avocado. Or if I had grilled fish and boiled potatoes for dinner, I'll put the leftovers in a salad to create an entirely different dish.
As you can see, the leftover thing does tend to be best suited for savoury breakfasts. But you can sweeten the deal with the dessert course. For example, these grilled peaches, served with panna cotta for dessert this weekend, were also terrific in the morning with yogurt and muesli.
Please let the world know of your breakfast leftover ideas by blogging about your recipes and sharing them with the Breakfast Club.
Here are a few rules:
Please indicate in your post that it is a Breakfast Club event, and add a link to the main Breakfast Club page.
All entrants must (1) link to this post on SmarterFitter, (2) link to Helen's Breakfast Club at Fuss Free Flavours and (3) include the Breakfast Club logo (click here to download).
Entries can be sent to other events but must include the links detailed above.
Recipes that you have blogged before are fine, but they must be republished and the logo and links above added.
If you use Twitter please use #blogbreakfastclub and tweet your entry.
Be mindful of copyright if using recipes which are not your own.
Closing date will be 30th June and I shall post the roundup shortly after that.
When you have written your post and have linked to it as mentioned above, please add your post below so everyone can see your recipes. I look forward to being inspired by your clever ideas for breakfast leftovers.