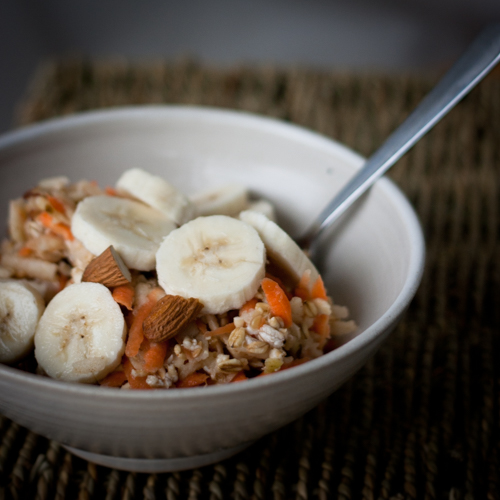 This is a riff on my usual bircher muesli recipe, with added carrots and cinnamon. The picture shows almonds in the mix, but feel free to use whatever nuts you have on hand. Walnuts or pecans would be more carrot cakey, but I really like brazil nuts. No cream cheese frosting here, but yogurt makes a delicious and much more nutritious topping. It you want to add extra decadence, try sprinkling with some toasted pecans just before serving.
Carrot Cake Bircher Muesli
Serves 1
50g oats
7g flax seeds
10g raisins
10g nuts
wedge of lemon
1 large crisp apple
1 carrot
pinch of cinnamon
pinch of salt
Method
The night before breakfast, put the oats, flax seeds, raisins and nuts in a bowl and add water until JUST covered.
The next day, grate the carrot and apple. Add to the bowl with a good squeeze of lemon juice and pinch each of cinnamon and salt. Mix well.
Serve with or without toppings – I like mine with yogurt, coconut flakes and sliced banana.
Here are a few more creative ways to get your oat fix:
I'm submitting this to the #ExtraVeg linkup hosted by Veggie Desserts, Michelle Utterly Scrummy and Fuss Free Helen. Because mmmm, more veg!!