It feels like 2013 might be the year of self-publishing. Alongside my Healthy Vegan Breakfast Book I've also been working with a few folks on their own publishing ventures. One of these folk is friend and client Rachel Demuth of Demuths Restaurant and The Vegetarian Cookery School who's just put out her Green Seasons vegetarian cookbook on the iPad.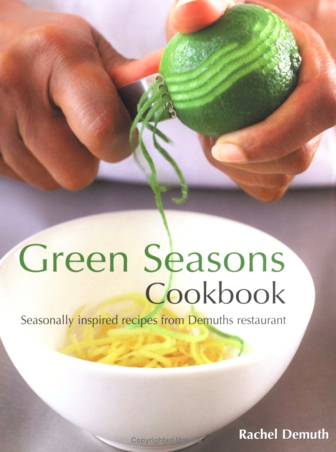 It's an exciting thing, and it's not just the food: Rachel's the first person I know to successfully produce an iPad book for the iTunes bookstore. It's been fun being part of the ride, testing the book for the iPad and discovering all the things an iPad can do that a book can't, for example, instant glossary-lookup on any unknown ingredients or methods and easy navigation from index to recipe. Plus, I don't have to employ any creative devices to help keep the book open while I'm cooking the food.
But what about the content intself? Here's the skinny on Green Seasons:
Green Seasons in Rachel's third vegetarian cookbook and serves as a guide to choose and cooking fruits and vegetables according to the seasons. The recipes are drawn from the menus developed at Demuths restaurant and are inspired by Rachel's extensive travels and knowledge of world cuisines. At its heart, the book is about the seasons and marrying exotic flavours with local produce, so you'll find recipes like Beetroot Tzatziki, Celeriac and Horseradish Burgers, Rainbow Chard Timbales and Apple and Calvados Sponge Pudding and Slow Roasted Red Peppers with Smoky Chickpeas.
I've owned the print copy of Green Seasons for a few years and it's been a really helpful resource that has inspired me to cook with ingredients I might otherwise have ignored – celeriac, jerusalem artichokes and leeks to name a few. The book may be vegetarian, but I wouldn't call it a "vegetarian cookbook". It's a book about cooking with vegetables (and fruit) and turning them into something exciting and tasty to anyone who likes good food. The book inspires creativity, and is a great place to find ideas for making vegetables more interesting.
I like her novel uses of butternut squash, including this Squash and Pumpkin Seed Bissara, a cumin-spiced Moroccan dip:
And her Squash Scrunchies, a super easy starter made with filo and filled with squash and smoked cheddar cheese (see How to Make Filo Scrunchies for a video demo):
One of my favourite recipes is the Yellow Pea Dhal. Seasoned with tamarind, it's got a nice tanginess that I especially enjoy at breakfast. (In fact, Rachel has graciously given me permission to include this recipe in my Healthy Vegan Breakfast Book, so let the lentil love live on.)
One of the things I've always liked about Rachel is her openness with recipes. In fact, that's how we first made contact: I emailed her after I had a great lunch at her restaurant and she emailed me back with the recipe for my lunch dish – score! I've seen her extend this same courtesy to numerous people, and in fact, the wider web by sharing some of the most popular recipes on her own website and on The Vegetarian Cookery School website. The iPad book just adds to this spirit of sharing, offering yet another media in which to use her recipes.
Click here to view Green Seasons on the iBookstore.