The release of my Smoothie Book is approaching FAST (free copies up for grabs here) and naturally I've been making a lot of smoothies, not only to test my recipes but also to fuel my fires and get me stoked for the highs and [only occasional] lows of eBook development.
One of the things I suggest in my book is trying fresh-pressed fruit and vegetable juice as a liquid base for smoothies. So, for the last couple weeks, I've been playing with the Phillips Avance Juicer from Argos and finding out what the fuss about juicing is all about. Turns out, there's something to be said for this modern day phenomenon…
A Tale of Two Juicers
Back in the day I had a juicer, a really fancy Omega "masticating juicer" (juicer speak for "hardcore"). It cost the world but made amazing juice (as well as pasta, almond milk, nut butter and more!). This was the Vitamix of juicers. But it had a lot of bits and pieces, was a pain to clean and in the end I sold it.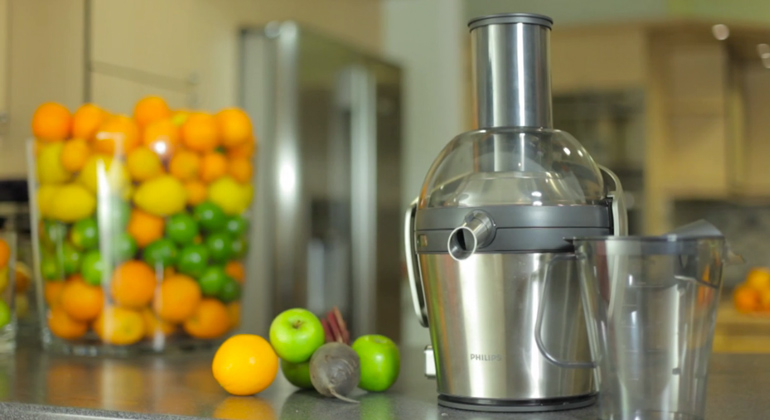 The Phillips juicer is a different beast. It's a centrifugal juicer (see the difference between masticating and centrifugal juicers) that actually seems to do what it says on the box: "Maximum Juice. Minimum fuss." The setup was easy and the best thing was that the fruit "shoot" actually had capacity for whole apples. This means less chopping and easier juice. Cleanup was also easy – there are 4 pieces to clean and all are dishwasher safe (and none of the bits have annoying grooves or dips that are prone to collecting nasty water in the dishwasher).
Juicing: it's not a detox, but it's still cool
The juicer came with a copy of Jason Vale's The Funky Fresh Juice book which further led me to his other book, The Juice Master Diet
 which details a 7-day juicing regime ("7lbs in 7 days!" he claims). I was skeptical because I hate the word "diet" and the cover of the book makes it seem like this is all about losing weight FAST. Furthermore, the book itself is full of fluffy health claims about "body cleansing", superfoods and "detoxing".
It may seem weird that I'm knocking the idea of "detox" when I glowed emphatically about the Clean Detox program I did for three weeks earlier this year. But as I've learned, calling such things a "detox" is biologically incorrect and based on a misunderstanding of how the human detoxification system really works (see: Detox Diets: Facts & Fallacies). Even Jason Vale admits (sort of): "Your body has it's own filtration system, mainly the liver, and it's constantly cleaning, or 'detoxing', if you prefer. So yes it could be argued that, 'juicing doesn't help the body to detox', which is true..ish."
Still, a book like The Juice Master Diet has a market and I get that Jason's writing to that market. He even writes in the book: "I suppose that in order to get your message to the people who need it most you sometimes have to compromise along the way". Ok, fine.
So I read the book and made some juice and as much as I'm cynical about all the fluffy superfood jargon, I am still fascinated by this concept of a full-time juicing spell (it helps that the apple orchard is in full swing and I have a LOT of fruit to play with at the moment). I felt great after doing the Clean thing. Call it a detox, call it whatever you will: if you eat "clean food" (fruit, vegetables, pulses, whole grains, etc.) and don't eat "bad food" (sugar, alcohol, processed food, etc.) for an extended, uninterrupted period of time, you're bound to feel awesome, and isn't that the point? And if that "clean food" were delivered in pure juice form, how would I feel?  Would it increase my energy? Improve my morale (which has been suffering a little lately in light of a recent foot injury)? Would it make me feel like a rock star?
So, I've decided to find out.
Juice Feast in Progress
So, as I write this, I'm just finishing my fourth day of what I'm calling a "juice feast". And "feast" really is the operative word here. This isn't a "diet", or a "fast" – it really is a feast of an alarmingly large amount of juice for seven days in a row. I'm drinking SEVEN juices a day, and many of the juices get blended with yogurt or avocado so they're more like smoothies. Here are my observations so far:
Pros:
It's not as hard as I thought it would be.

The plan is totally laid out for you – there's a wall chart and an app that makes it totally easy to create a shopping list, plan your smoothies throughout the day and make the recipes. There's very little thinking to do here.
The juices are really good.
Avocados play a major role in the smoothie recipes and I am an avo ADDICT.
Some of the juices are more like "smoothies" (so, fresh juice blended with avocado or yogurt) – I look forward to these the most!
I still have energy to go to the gym, life weights, cycle, etc. In fact, today I lifted more and swam more quickly than I have in many months. Most importantly, I felt great while doing it (albeit a little hungry).
I sleep like the dead.
I am not constantly hungry.
I have a LOT of energy throughout the day – no crashes ever – and this especially goes for MENTAL energy, which means…
I'm WAY more productive, particularly in the evenings, though this might be because I don't spend time cooking or eating a "meal" (dinner time is one of my favourite times of the day, but often after dinner, I succumb to a movie or useless internet surfing – this hasn't really happened, or if I do it with a movie, I do it with intention and not "I can't be bothered doing anything else" kind of laziness).
The whole thing seems to go by pretty quickly.
Cons
Headaches, which I experienced on Days 2 and 3. They set in at about 5pm and didn't go anywhere for the entire evening. This may have been an effect of caffeine withdrawal – I haven't had any headaches since.

The recipes can get a bit samy, particularly on the fruit front – he stresses that apples, carrots and pineapple or a combination should always be used as a base to the vegetable juices. But this brings me to my next gripe…
He doesn't explain WHY. I'd love to know more about why the plan is laid out as it is and why these particular fruits and vegetables are so important.
I miss cooking and sitting down for a proper meal.
Ok, I know I said I wasn't constantly hungry but I admit that there is a sort of latent hunger that drinking a glass of liquid just doesn't satisfy (Jason Vale argues that this is "mental hunger" and not true physical hunger – and that if it is true hunger, we are free to simply drink more juice).
As much as the juicer is easy to use and clean, it loses it's charm when you have to clean it seven times.
It's expensive, especially if you buy into all of the optional recommended supplements (spirulina, wheatgrass, psyllium husks). Plus the groceries alone: I mean, 85 apples for the whole week! (I'm lucky I have an orchard.) Not to mention the cost of the juicer.
The juices, though delicious, get a little boring as the same ones are repeated throughout the week.
I miss salt.
I miss chewing.
I will report back in a few days when I'm finished and let you know my final thoughts on the whole thing.  In the meantime, to give you an idea of how this works in practice, I'm sharing a recipe for one of the juices that features prominently throughout the seven day juice feast, and it's one of my favourites. I didn't think I liked pineapple but add a lime and it's a total win.
Jason Vale's "Turbo Express"
Juicy Ingredients
1/4 small pineapple

1/2 stick celery

1 inch chunk of cucumber

1 small handful of spinach leaves

1 small piece of peeled lime

2 apples – not Granny Smiths

1/4 ripe avocado

Ice
Juicy Instructions
Juice the pineapple, celery, cucumber, spinach, lime and apples. (If you have a Phillips whole-fruit juicer, put in one apple, place the other ingredients on top and then finish up with the other apple).

Place the ripe avocado flesh in the blender / smoothie maker along with the ice and juice mixture.

Give a good whiz for 45 seconds (or until smooth).

Pour into glass – enjoy!
Why this is good for you
This juice is rich in potassium, vitamin C and iron, which helps cleanse the intestine and boost the immune system. It is excellent for rebuilding red blood cells and reducing blood pressure. It is also helpful with kidney problems and acts as a diuretic. The blended avocado contains all of our body's six dietary needs in abundance – water, fat, protein, natural sugar, vitamins and minerals.
Source: Jason Vale's Turbo Express
Related Links