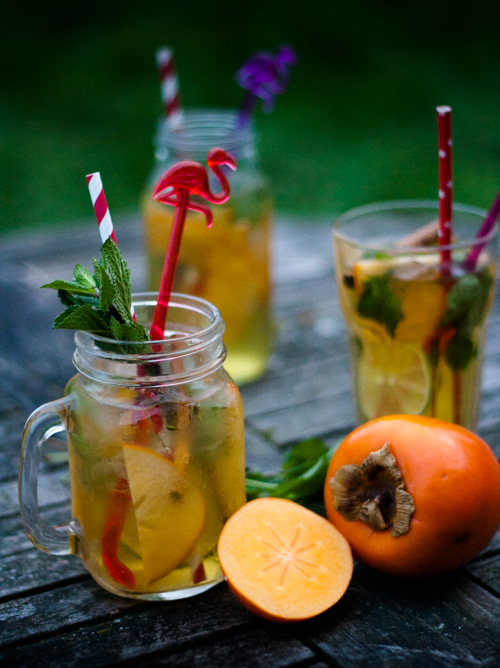 If you're like me and spend a lot of time in the fruit aisle at the grocery store, then you've probably noticed the arrival of Spanish persimmons, a delicious fruit with a sweet delicate flavour akin to mango. They are available from mid-October until January which makes them all the more precious, and their sweet orange flesh can provide a much welcome burst of sunshine on dark winter days.
For this reason, I decided to showcase them at my recent supperclub in a welcome cocktail featuring rum, lots of lime, and ginger ale. The result is undeniably festive and, when garnished appropriately, looks as beautiful as it tastes. Something to consider for your Christmas and New Year parties. At my party, it even inspired some artwork!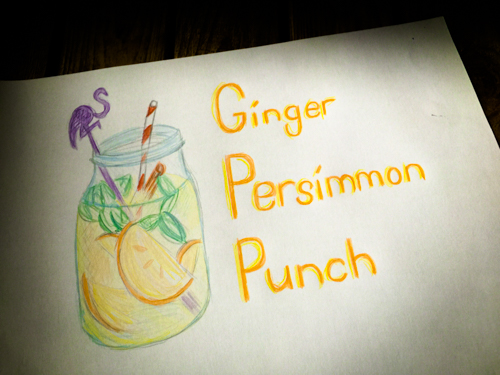 For more information and recipe ideas for persimmons, visit spanishpersimon.co.uk.
Rum Persimmon Punch
Make it a mocktail by skipping the rum and ginger wine!
Preparation: 10 minutes | Serves: 8-10
Ingredients
3 Spanish persimons
3 limes, thinly sliced
Juice of 6 limes
2 cinnamon sticks
2 tbsp dark muscovado sugar
350ml dark rum
150ml ginger wine
Ice cubes
1 litre ginger ale
Mint sprigs, to decorate
Method
Remove the leafy tops from the persimons, slice the flesh thinly and add to a large punch bowl with the sliced limes, lime juice, cinnamon sticks and muscovado sugar. Allow a few minutes for the sugar to dissolve.
Pour the rum and ginger wine into the punch bowl. Add the ice cubes, then top up with the ginger ale.
Serve in punch glasses or tall glasses, decorated with mint sprigs.
Cook's tip: You could make this with light golden Barbados rum instead of dark rum – either way, it packs a punch!