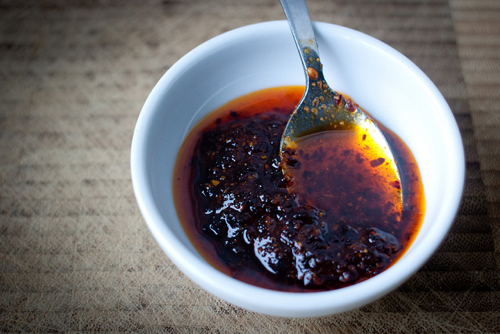 Salsa macha has become a coveted kitchen staple of mine. This magical combination of dried chilies, garlic, nuts and olive oil is highly addictive, and the perfect vehicle for discovering the world of dried chillies out there.
When I first came across the recipe, I almost didn't make it because it calls for 500ml (two cups) of olive oil. But when all was said and done, I ended up with a "salsa" that has completely blown my mind and changed my world. I'm not exaggerating!
It began with a recent good fortune: a while back I won a "goody bag" of dried chillies from the Cool Chile Company. I rarely enter competitions, and win them even less, so I was pretty psyched to receive a weighty parcel of dried pasilla, ancho, guajillo and chipotle chillies, and a bonus sack of masa harina.
Ever since, my mind's been reeling over what to do with them. One of my objectives is to use this opportunity to get to know the unique flavours of these chillies. I'm very familiar with chipotles and their wonderful smokiness, but the others are a bit of a mystery to me.
I first made the ancho lentil tacos, where I discovered that anchos (dried poblano peppers) are milder than chipotles, though still a touch smokey, and sweeter. I've also made tortilla soup, which includes pastilla chilli, which seems similar to ancho to me, except is possibly milder.
Moving on from these recipes I wanted to take advantage of something that was really all about the chillies, so started hunting for salsa and sauce recipes. Rick Bayless' salsa macha caught my attention because it was suited for any one or a mix of dried chillies, and also included some interesting ingredients like almonds and sesame. I only noticed the oil quantity after I'd mentally decided to make it. But I'm so glad I pushed on.
This isn't a "salsa" like the kind you find in jars at the grocery star. It doesn't contain tomatoes or lime or cilantro. This is more like chile pesto, a puree of dried chillies with nuts, seeds, garlic and a little salt, vinegar and Mexican oregano. And the flavour is out of this world.
I used six guajilla chillies and four chipotle chillies, plus some of my homemade apple cider vinegar. The resulting "salsa" has an awesomely sweet and smokey aroma with a flavour to match. There's only a little bit of vinegar in the recipe, but it's just enough to make the puree seem almost "fresh", despite all the oil. The nuts and seeds, which have been fried in the oil, add further depth of flavour and balance out the chillies.
So it's good, but game-changing? Well yes, for someone who was until recently a vegetarian and unaccustomed to eating foods that are so deep, rich and satisfying. Although I didn't eat meat at the time, I can now understand why some meat-eaters would find it difficult to go vegetarian because it's very difficult to duplicate meat's, well, meatiness in vegetarian food (meat-eaters, maybe you can explain this phenomenon?).
Still, eating this salsa made me feel very much like one feels after eating a good steak. I used the salsa macha in something very simple: a bowl of sautéed onions, potatoes and greens (a bit of egg would have been good here, too). I included some of the salsa in the saute pan, and then added a little more at the end. The flavours were so intense and wonderful that I finished the meal with a weird satisfaction that I'm not really used to.  It had nothing to do with spiciness – in fact, the guajillo and chipotle combo resulted in a pretty mild heat – but pure flavour.
I think the phrase "awesome sauce" is appropriate here. I see myself using this all over the place – potato, eggs and tofu come to mind. I can also see adding it to other salsa and sauce recipes to add deeper flavour. Rick has a recipe for Slow-Cooked Fennel where salsa macha is used almost as a baste. He also does lamb chops with salsa macha for any meat eaters who are keen to give this a try. And you should, because it really is a life changer. And I can't stop opening the jar just to have a whiff.
Salsa Macha
Ingredients
40g (1/3 cup) almonds (or other nut)
1 Tbsp sesame seeds
4 garlic cloves, peeled and halved
500ml (2 cups) olive oil
1 Tbsp cider vinegar
1 tsp salt
A generous 1/2 teaspoon dried Mexican oregano
Method
Stem the chiles, then break or cut them open and remove most of the seeds; break the chillies up roughly into thumb-sized pieces.
In a large saucepan, combine the almonds, sesame seeds, garlic and oil. Set over medium-high heat and cook until garlic and sesame seeds are golden, about 5 minutes. Remove from the heat and stir in the chiles. Let cool 5 minutes.
In a small bowl, mix the vinegar with the salt until the salt dissolves, then add it to the pan along with the oregano. When the mixture has cooled to room temperature, pour it into a blender and pulse until everything is chopped into small pieces (I use a Froothie Optimum 9400 power blender for this). You don't want a super smooth puree – leave some texture in there.
Pour into a jar and store in the refrigerator until you're ready to use.