As part of my supperclub earlier this month, I developed a signature cocktail – fresh pineapple margarita with jalapeno and strawberry infused tequila – inspired by my time spent in Austin and budding interest in fresh juice cocktails.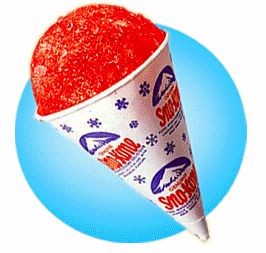 Today, inspired by my friend Kavey's post about ye olde ice cream vans, and because it's Friday, I decided to recreate my margarita as an adult version of the classic "Snow Cone". This is also in vague tribute to another Austin favourite, Casey's Snow Balls, which itself is a tribute to another one of my favourite city's, New Orleans (it's all about tributes today).
The snow ball concept is basically this: put some shaved ice in a cup (which you can sort of achieve by blending up ice in a blender with a little water). Pour whatever you want over the shaved ice – booze, fruit syrup, fresh juice, cordial, whatever – and serve. This makes the below recipe very adaptable for whatever margarita flavour you'd like (I pimped out the above margarita with some elderberry syrup I had left from last year).
For lack of paper cones, I find the cone-shape of the margarita glass makes a perfect substitute.
Snow Cone Margarita
Serves 1
1 cup shaved ice (or ice crushed up in a blender with a bit of water)
1-3 Tbsp agave nectar or flavoured syrup (depending on how sweet you like it)
1 ounce tequila (or better still, jalapeno and strawberry infused tequila)
1 ounce lime juice
salt if desired
Method
If you like a salt-rimmed glass, then take a lime wedge and use it to moisten the rim of the glass. Put some salt on a plate and rotate the outside of the glass rim in the salt (so that you salt the outside, not the inside).
In a jar or any container with a lid, combine the agave, tequila and lime juice. Give it a good shake.
Put the ice in the glass and pour the jar contents over it.
Garnish with lime, pineapple or whatever you like an serve.
I'm including this in Kavey's Bloggers Scream For Ice Cream round-up under the ice cream van theme.