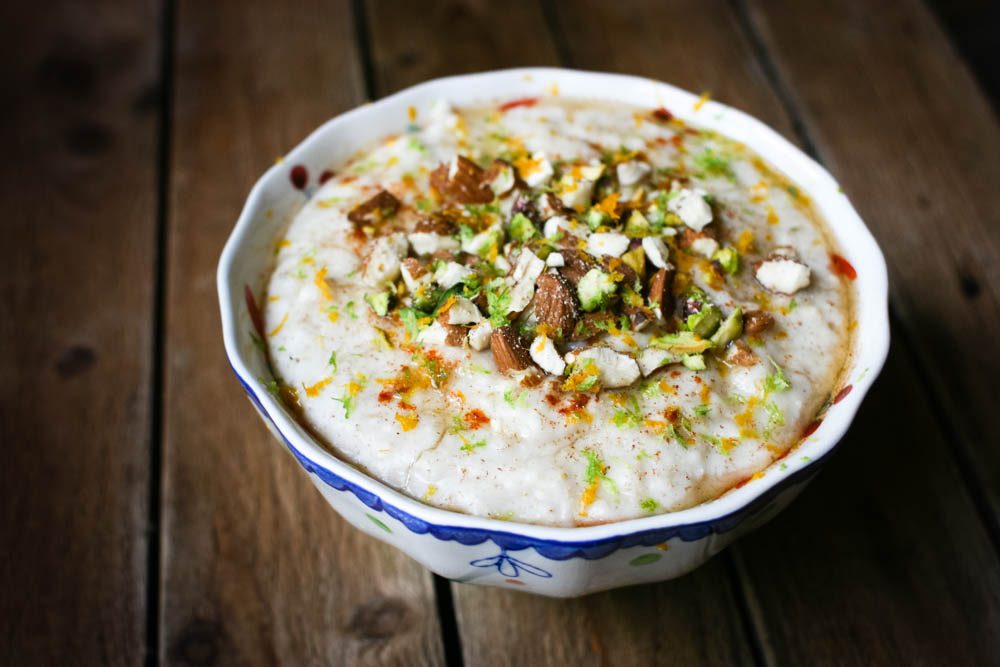 Here is a high protein porridge for those of you love porridge (e.g. "oatmeal" for my friends in the States) but want to squeeze a little extra protein into your breakfast. We've been adding whey protein powder to our porridge for a while now, but Andrew stumbled upon this phenomenal serving strategy that really kicks it up to a new level. It's all about the garnish – citrus zest, honey, cayenne, and lots of nuts. Proof that porridge needn't be boring! (Or a total carb fest!)
I choose to make this with a mix of jumbo oats and unflavoured whey protein powder, but the lazier amongst you can actually buy MyProtein Total Oats and Whey which is a pre-mix of porridge oats and whey protein powder.
If you like this you should also try my high protein bircher muesli!
High Protein Porridge / Oatmeal
Ingredients
For the porridge:
100

g

jumbo oats

25

g

Pulsin protein

Water to texture preference

Salt to taste

A large pinch of ground cinnamon

to taste
For the garnish:
A handful of nuts

roughly chopped (I used a mix of almonds and pistachios)

A small pinch of cayenne pepper

to taste

A drizzle of honey

Grated zest of one lime

Grated zest of half and orange

A small pinch of freshly grated nutmeg
Instructions
Mix the oats, salt and protein power thoroughly in a medium saucepan. Add the cold water in accordance with your textural preferences.

Gently heat the water, being careful not to burn the protein powder, stirring constantly to avoid lumps, until the porridge reaches your preferred texture and consistency.

Remove from the heat and taste for seasoning.

Stir in the ground cinnamon.

Decant into a bowl.

Scatter the nuts onto the porridge.

Sprinkle the cayenne pepper.

Drizzle with the honey.

Grate the citrus zests onto the porridge.

Grate the nutmeg onto the porridge.

Eat with gusto.