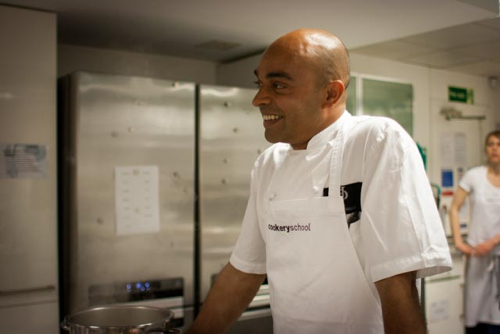 Last Friday I had the pleasure of attending an Indian cookery masterclass with chef Alfred Prasad at Cookery School at Little Portland Street, part of Great British Chef's #gbccookschool line-up. Alfred received a Michelin star at just 29 years old for his work at Tamarind restaurant in London (he's now pursuing his own restaurant empire). Naturally it was a thrill to have the opportunity to learn more about one of my favourite cuisines from this talented chef.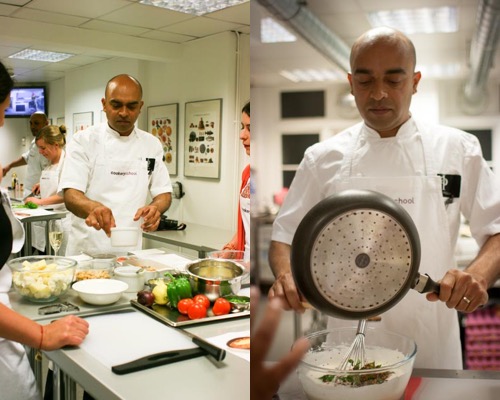 Better still was that the evening was entirely vegetarian – Alfred grew up in Chennai in southern Indian. In his father's family, vegetarian cooking was paramount and so his appreciation of vegetables started at an early age while spending hours in the family's vegetable garden, tending ingredients destined for the dinner table.
For just a three hour class, the menu was lavish:
Kanchipuram Idli
Gunpowder Idli (a revelation!)
Pav Bhaji (vegetable curry served on toasted brioche buns)
Masala Dosa
Chaat
Malei Kulfi (pistachio ice cream)
The big highlight was definitely learning to make idlii and dosas, two Indian art forms that I have long admired but have always seemed too complicated to make on my own. Alfred made it definitely seem doable. We all had a go at making our own doses and most of us (myself excluded!) got it on the first try (I did manage it on the second try, however).
It's also worth mentioning that Alfred is the nicest guy! Friendly, approachable and an excellent teacher with fascinating stories to tell. It was a real pleasure learning from him.
Thank you to Great British Chefs and to Cookery School at Little Portland Street for the excellent evening. And thanks especially to Alfred Prasad for his top notch tutelage. I'm now off to order an idli maker and buy some urad dal: my breakfasts will never be the same!
You can get all the recipes and learn more about Alfred Prasad by downloading this Alfred Prasad e-Book from Great British Chefs.