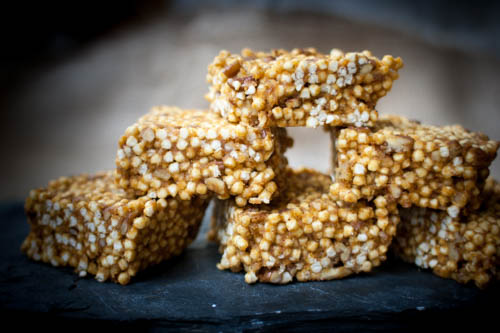 As far as whey protein innovations go, the invention of whey protein crispies (aka protein puffs) has to be the most fun. Think puffed rice, or rice crispies, but instead of being made with rice, they are made with pure whey protein. For those of you who regularly use whey protein powder, this offers a nice alternative, allowing you to get your protein fix through more interesting means than shakes and smoothies.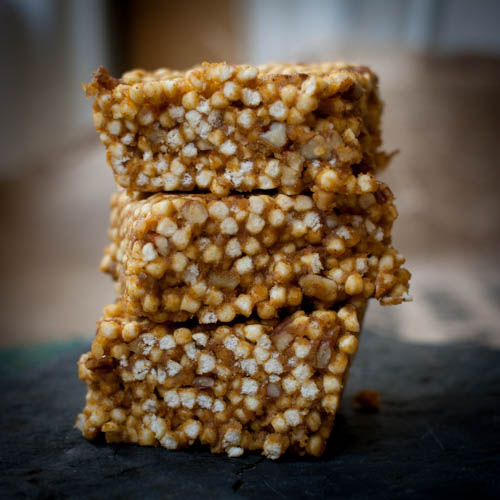 I've already written about protein crispie granola. Lately, I've been experimenting with pseudo rice krispie treats to take with me on walks. This iteration is inspired by the flavours and ingredients of autumn! Pumpkin puree, along with honey and nut butter, make a great alternative to marshmallow as a binder. I include a hefty hit of pumpkin spice mix, and pecans, because pecans are delicious!  If you want to give these a try, you can pick up protein crispies from Pulsin, and fortunately UK shops are starting to stock tinned pumpkin. Otherwise, you can always make your own pumpkin puree!
No bake pumpkin protein crispie treats
Makes 8 bars
1/4 cup almond butter or peanut butter
1/4 cup + 2 Tbsp pumpkin puree
1/4 cup honey (or more if you have a sweet tooth!)
15g coconut butter or cacao butter
2 tsp pumpkin spice
1 tsp vanilla extract
2 cups protein crispies
1 cup pecans
Method
Line a standard loaf tin with clean film or parchment.
In a saucepan, combine the nut butter, pumpkin puree, honey, coconut (or cacao) butter, pumpkin spice, and vanilla extract. Warm on a low heat and stir until everything is combined.
Allow the mixture to cool to room temperature – this is important otherwise your crispie treats will not be crispy at all!
Mix the wet mixture with the protein crispies and pecans. Press firmly into the loaf tin, pushing down on all the sides.
Chill in the refrigerator for at least 30 minutes.
Remove from the refrigerator, turn out onto a cutting board, and cut into 8 pieces using a sharp knife. Enjoy!