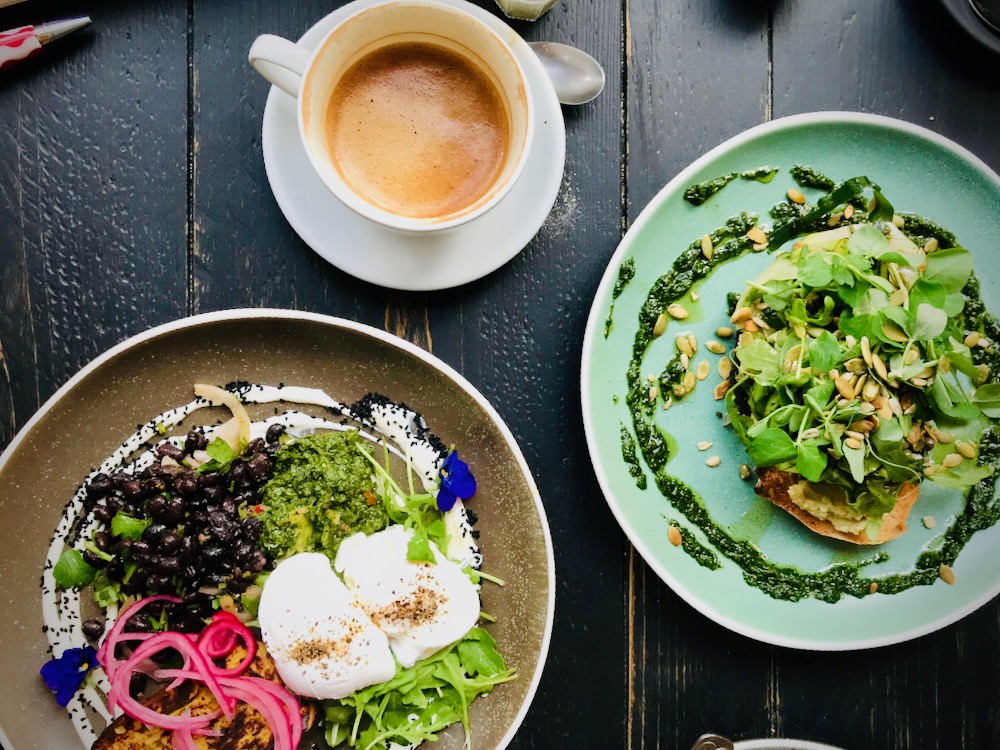 "How do you survive looking at so much beauty all day?"  That was my mother's question to the waitress at The Fig cafe in Rye upon receiving our first dish. We were there for brunch on recommendation by our Airbnb host as a place that was both dog-friendly and had good vegan options (vegan options for mom, not the dog).
We began with soup, that first dish which made my mom question the waitress's mortality. It was an artfully presented cauliflower and apple soup with onion seeds and walnuts. The waitress seemed a little taken aback by my mom's query, but took it in her stride. Apparently it was her first day on the job, so who knows? Maybe in fact she wouldn't survive?
There was no denying: the soup was beautiful. And both my mother and I were impressed by the flavour combination. We consider ourselves cauliflower aficionados, but we'd never though of combining this humble brassica with apple. We told the hostess how much we enjoyed it. She informed us: "that's my husband – he does make a bangin' soup".
The waitress's survival became even more tenuous with the arrival of our main courses.
Being a sucker for all things corn and pickled, I went for the Peruvian corn cake with chimichurri, poached eggs, sour cream, pickled shallots, black beans, and nigella seeds. The corn cake was not too sweet, which I like. With the beans and other accoutrements, it was like the Peruvian equivalent of a Full English. The chimichurri made it, and I appreciated the little touch of edible flowers.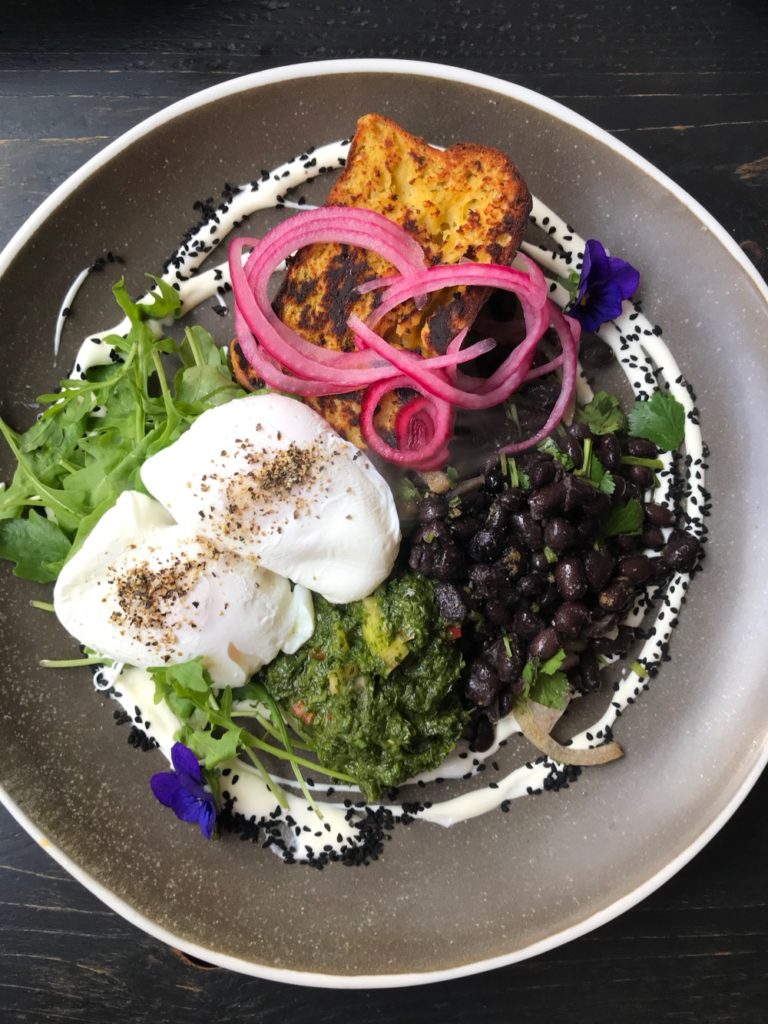 Mom's breakfast was really the star of the show: artichoke whip with marinated courgette ribbons, capers, rocket, basil oil, seeds, pea shoots, and sourdough. For mom it's always nice to be able to order something off a menu without making any changes (e.g. leave off the egg / cheese / butter / etc to make it vegan). And why would you want to change anything with a dish like this?
The artichoke whip is the Fig's only vegan breakfast offering, but I'm OK with that. The overall menu is fairly small as is, seeming to favour quality over quantity. We loved their sourdough, too, which is supplied by Judges Bakery in Hastings. The food complimented the contemporary decor of the cafe. It's not a huge space, but still manages to feel light and airy – great lighting for photos, too.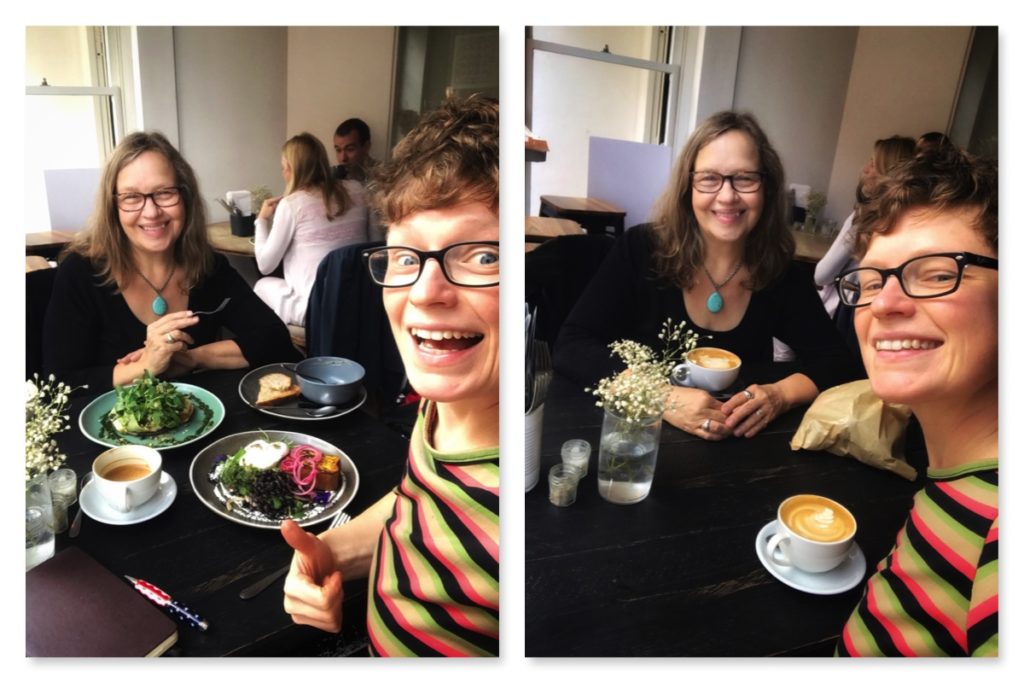 I've talked a fair bit about the vegan thing but I should stress that this is a delightful place whatever your dietary preferences. Their menu has both breakfast and lunch options combining traditional dishes such as eggs benedict alongside their own creations such that we had. I'd like to return for the "beetroot and goats cheese loaf, smoked salmon, marinated courgette ribbons, dill creme fraiche"!
We ate at The Fig in Rye while on a mini road trip around East Sussex (I'll be making this road trip again just eat at this cafe again and see what else they come up with!). The Fig also has a cafe in Hastings. And yes, they are very much dog-friendly.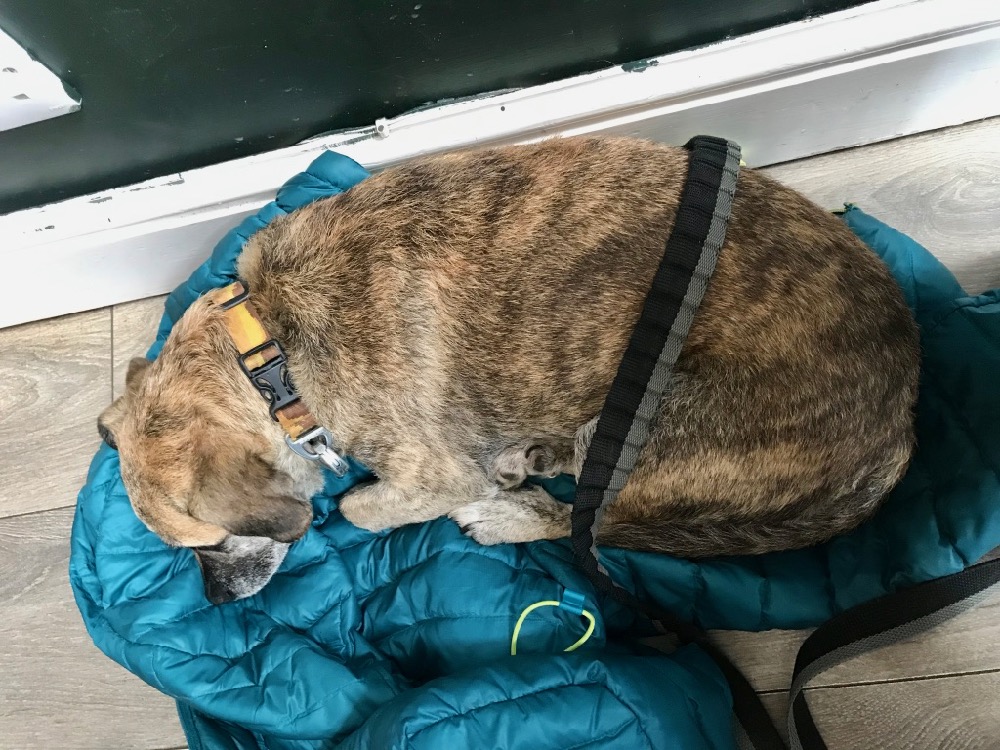 The Fig, Rye
2 High Street
Rye
East Sussex
TN31 7JE
thefigrye.com
@thefigrye