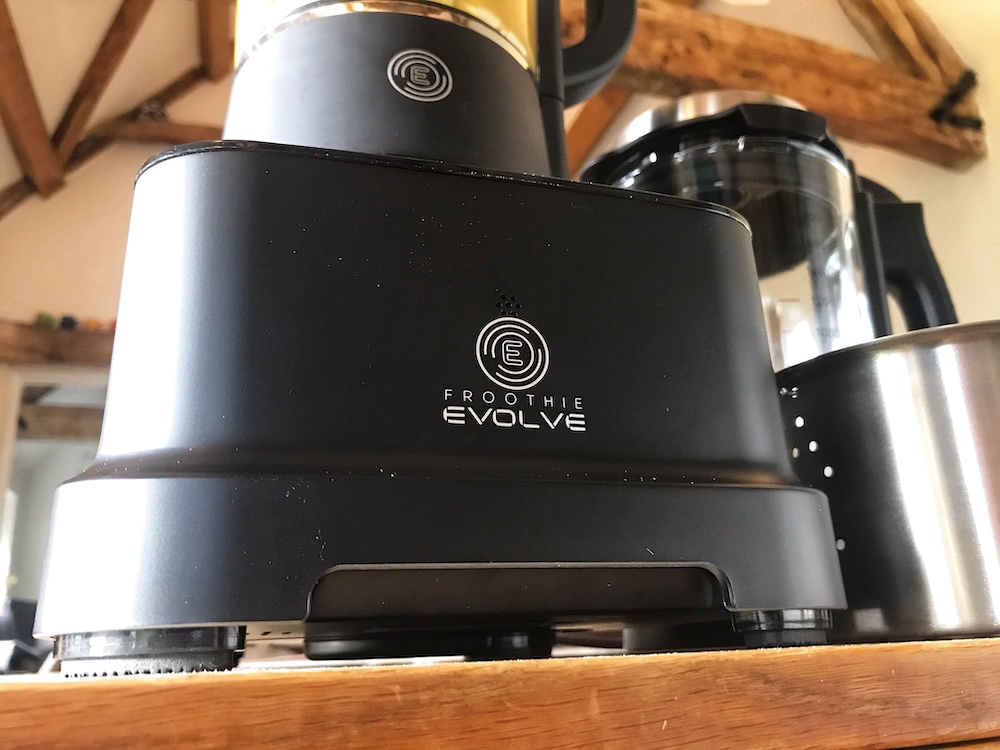 There seems to be a trend at the moment (e.g. Instapot, Thermomix, and the like) for do-it-all kitchen appliances designed to take away the heavy lifting of cooking whilst still producing tasty nutritious meals. As such I was eager to have a try of the new Froothie Evolve High Speed Blender which touts all of the features of a quality high speed blender plus the added functionality of steaming and cooking (particularly soups, sauces, and the like). The Froothie Evolve isn't exactly an all-in-one cooking system (don't expect it to slow cook a brisket for you) but its added cooking features make it pretty compelling as an appliance that can save a bit of time without taking up epic amounts of space in the kitchen.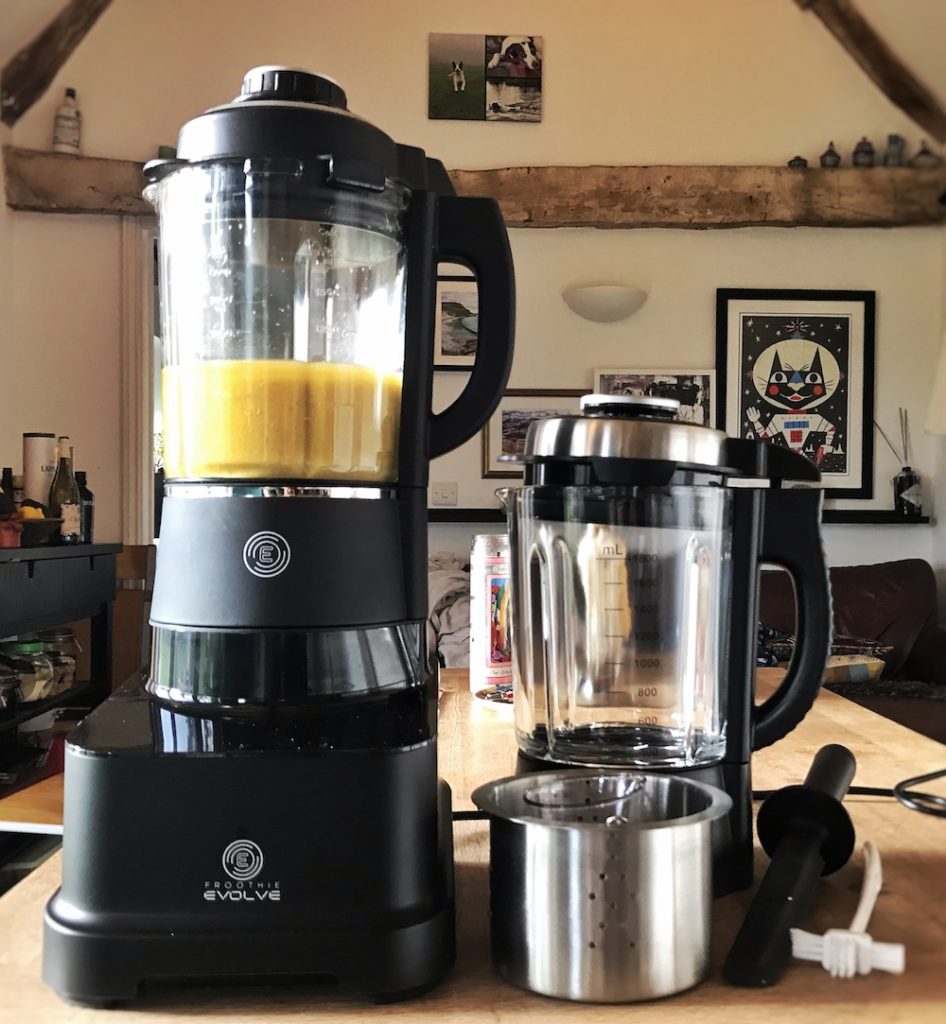 Quick disclaimer: I'm a Froothie ambassador so was grateful to have been gifted a Froothie Evolve to try for myself and give it an unbiased test (and if you read to the end you'll find a £100 off reader offer – exciting!). I've already been really happy with the Froothie Optimum Vac2 Air Vacuum Blender for my general blending needs so hoped that the Evolve's added cooking functions wouldn't compromise on the other features. On paper, the specs are favourable as compared to similar products. But how did it stack up?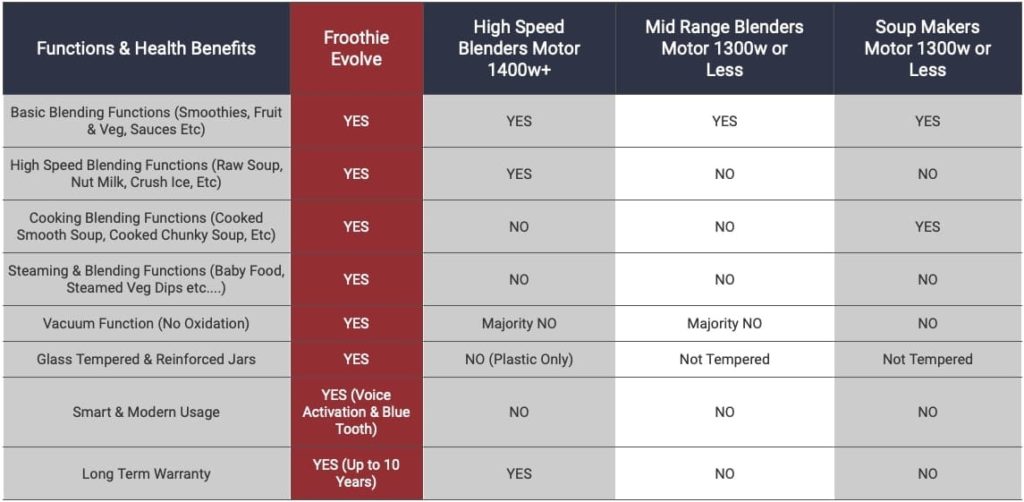 I won't do a deep dive on all of the features – you can absorb all of this on the official Froothie Evolve website. Here's the stuff that really stood out for me:
Froothie Evolve's Soup Making Function Actually Works!
I'm mentioning this first as it was a key selling point for me and a unique feature as compared to other power blenders. But does it work?! I was mesmerised to discover that it does, and pretty well, too. Not a whole lot of attention is given to this feature on the website or in the manual, and I'm not entirely sure why. In fact the manual makes the whole process a bit mysterious. It says to put everything in a blender, add water, and select "Smooth Soup" or "Chunky Soup" but there are no guidelines on ingredients, quantities, etc. So I had to sort of wing it. I trialled the soup function with my favourite red lentil soup, Shorabat Addas, simply putting all of the ingredients (dry lentils, a quartered onion, 3 cloves of garlic, some spices, water, salt) into the blender, holding my breath, and pressing the start button.
Would it cook my lentils? Would it even be hot? Who can say. I'd have to wait 30 minutes to find out (that's how long the soup setting takes to run).
During those 30 minutes the house started to fill with the usual aroma of this Persian soup and I could see in the jug the lentils moving around. Things were happening! I chose the "chunky" setting, so through the process the Froothie kicked into blender mode for a few pulses. Finally it was done, and the soup was good!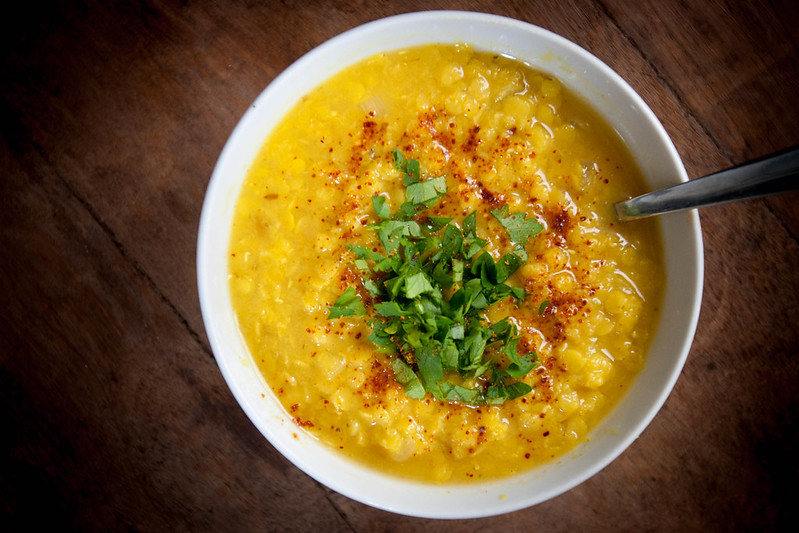 This is going to be a huge time saver for me. What can I say – I eat a lot of soup, especially during the winter. I fill up my Thermos flask and take it with me to off-site jobs or hiking trips. Having the option to make nutritious soup quickly and easily is an enabler. I'm still experimenting with the soup functions but I can see it becoming my favourite feature of the Froothie Evolve.
A couple points to remember…
The soup setting is 30 minutes long so anything you put in the jug needs to cook in 30 minutes (so red lentils are fine, but longer cooking pulses probably wouldn't work so well).
Be mindful above with vegetables, too… you'll want to cut up things like sweet potatoes, squashes, and so on into manageable pieces that will cook in a timely fashion.
The cooking jug size is 1.75L so you might have to scale recipes in order to fit everything in the jug.
A bonus for anyone counting calories or being mindful of fat intake is that this method allows you to make soup without any added oil.
The cooking jug also comes with a steamer basket for steaming vegetables, rice, etc. Another enabler for healthy cooking.

Two Glass Jugs
I'm really glad that Froothie has started shipping its blenders with glass jugs (rather than plastic). This is a huge step up in terms of quality and aesthetics. I've found the plastic jugs of previous Froothie blenders to go cloudy over time. The glass should mitigate this. Some might complain about the weight – they are heavy – but to me the heft just adds to the quality feel. I'm pro. The blender comes with two jugs, one for vacuum blending (basically a standard blunder jug perfect for smoothies), the other for cooking (this has a heating element so should only be used for soups, sauces, etc).
Voice Activation and Bluetooth Option
Check this out: you can activate the machine with voice commands and even operate it through an app on your phone. I'm a nerd so of course I found this cool. How often will I use this? Probably not a lot. But I love knowing that it's there and if I wanted I could make a breakfast smoothie (pre-prepped the night before!) from the comfort of my warm bed!
All of the qualities of a quality power blender
I was worried that the Froothie Evolve's extra functions would compromise on its core strength as a powerful blender. The Evolve has a Max Blending Motor Power of 1800 Watts. This is more than either the Vitamin or Blentec, so I probably shouldn't have worried. I've tried making both smoothies and nut butter with the Froothie Evolve with great results. No grainy bits. No overheating. And easy to clean with the pre-set cleaning function.
Any downsides to the Froothie Evolve?
Extra storage space required for multiple jugs
You need to be careful when cooking the cleaning jug to ensure you don't get the bottom heating element wet
It's a little loud, but then again, it's a blender!
The jugs are heavy. This doesn't bother me, but others with mobility issues might find it cumbersome.
My verdict
I really like the Froothie Evolve. More than I anticipated – it is indeed more than just a blender. The Froothie Evolve is a quality piece of kitchen kit that fulfils all of the functionality of a top class power blender with added cooking features that make it a huge enabler. Anyone who wants to engrain healthier habits in their lifestyle will find the smoothie and soup functions enormously helpful. Equally, anyone who just needs a tool for making top quality blended creations, healthy or otherwise, will find this powerful blender very effective.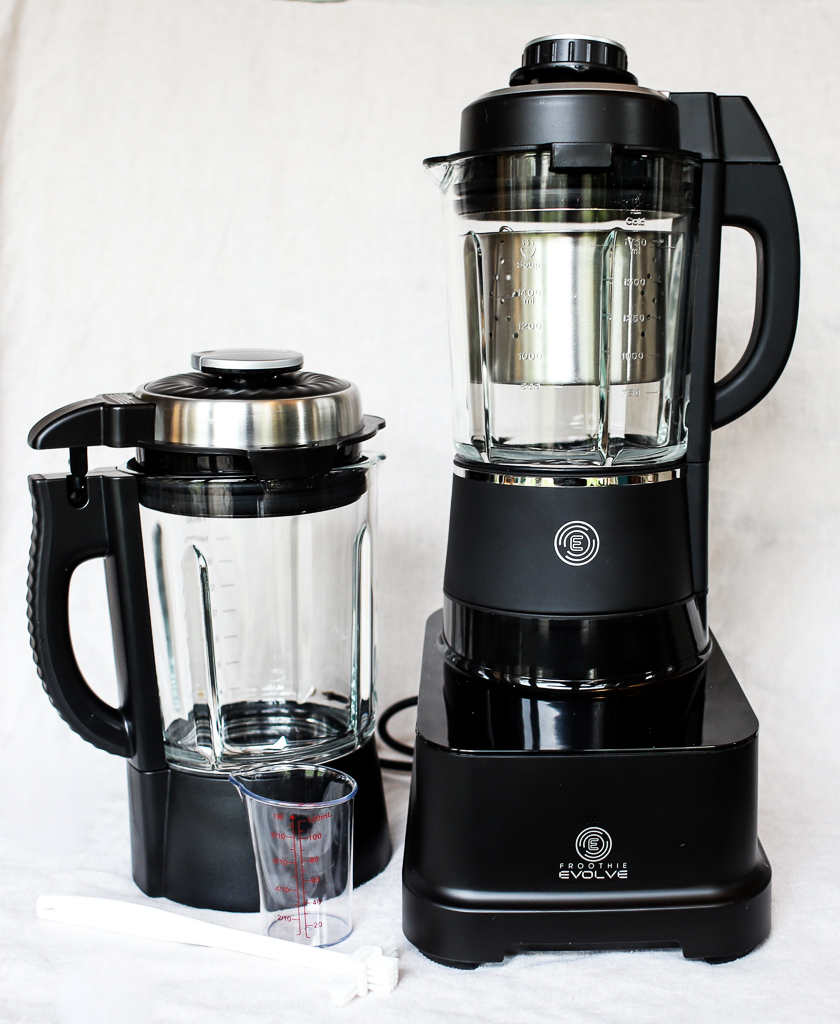 SmarterFitter Reader Offer: £100 Off
If you buy a Froothie Evolve through this link you currently an extra two years warranty (taking the warranty up to a generous 7 years). Simply add the following text to the comment box when ordering:
Ambassador (1531) special 2 extra warranty years
You also get as standard:
Free UK Mainland Delivery. Order before 2pm for delivery next working day
30 day money back guarantee (including postage)
0% 12 months Free Finance
DISCLOSURE
This post contains affiliate links which means SmarterFitter receives a small commission if you purchase an item after clicking on one of the links. This comes at no additional cost to you, and helps to support the website in its continuing goal to create quality content to enable your smarter fitter lifestyle! I was not paid to write this and all opinions are my own. Thanks!