We recently had the opportunity to attend the Vegan Gourmet course at Demuths Cookery School. No, we're not vegan, nor do we plan to go vegan anytime soon. Even so, a course like this seemed a great opportunity to expand our vegetable horizons and get some new creative ideas for making interesting, totally plant-based meals. After all, we all know that everyone should be eating lots of vegetables so who wouldn't benefit from a course like this, be they vegan, vegetarian, or your average omnivore?
A little disclaimer: I've been working with Demuths for several years. I also had my own paltry stint at vegetarianism for almost 20 years, so I'm not exactly new to cooking with vegetables, and they continue to form the mainstay of my diet. But it's easy to get into a rut (for me that rut involves a lot of kale salads!). I'm grateful that Andrew loves vegetables as much as I do though he doesn't have quite the same experience cooking with them. So a course like Vegan Gourmet offered him the chance to really explore the possibilities of vegetable cookery, and me the chance to learn new techniques with ingredients I already love.
Demuths varies the dishes they make based on season and availability, so the menu isn't revealed until the day of the class. We were happy to discover it included a few ingredients we particularly enjoy: tempeh, fennel, and shallots!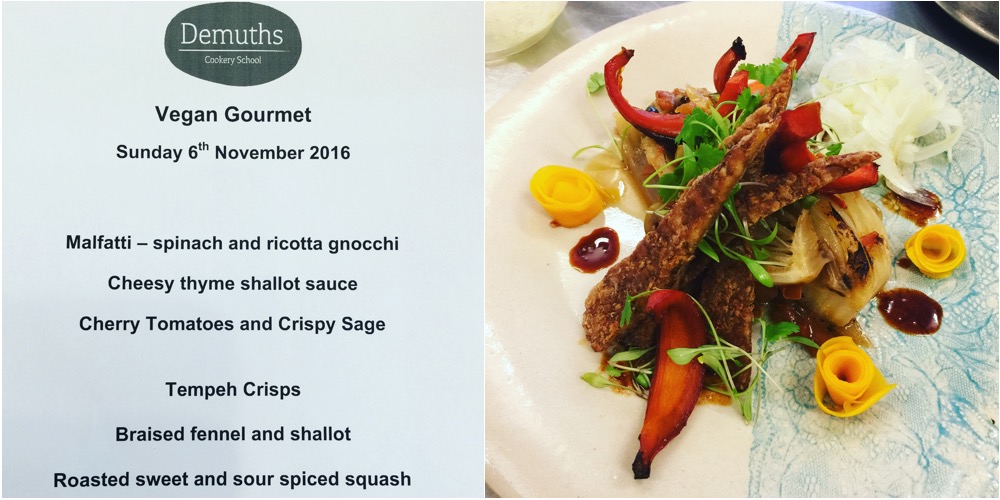 The class was a mix of demonstration and hands on cookery, including some bonus tips on knife skills and food styling. Everything is very casual, and the tutors are extremely friendly and welcoming. It all ends up being a lot of good fun and great banter with the other students and chefs. We thoroughly enjoyed every minute of it and thought each and every dish was delicious. It's totally changed the way we make tempeh (thin and crisp!). We make the braised fennel and shallot recipe on an almost weekly basis (recipe below), often to go with fish, which just goes to show how useful a course like this can be in helping you learn to augment your otherwise excessively meaty meals!
But what's been really amazing are the general skills Andrew has taken away with him. I'll let him explain…
Vegan cooking for omnivores… and embracing the mise en place
Having been an omnivore for as long as I could remember eating food, I'd had very little exposure to purely plant-based food and cooking until recently. There's no doubt that all of my assumptions about food and cooking were very meat-centric (although I've always loved cooking with fish). But recently, I'd started to experience all of the joy of a newcomer when it came to cooking with ingredients like tempeh and fennel, and my mind was definitely beginning to open up. So, when Monica suggested we try the Demuths Vegan Gourmet course in Bath, it's fair to say I was a lot more enthusiastic about it than I might have been a few short years ago. I'd started a food journey, and this seemed like a sure-fire way to develop my interest.
By the middle of the morning session, my mind was brimming with new ideas, and I couldn't wait to start experimenting with them at home. Within an hour, I'd vastly improved my knife skills, and I was finding myself giving so much more thought to why I do certain things in the kitchen. Why do I use this oil with this dish? Why do I use this amount of heat to fry garlic cloves? What do I want the texture of this dish to be like, and how will I achieve what I want? I was starting to think from scratch about my food assumptions.
When Monica and I booked on the course, I wasn't quite sure what to expect. Being interested in eating food from all kinds of sources other than plants, I wasn't sure how much of what I would learn I'd find myself applying in our kitchen at home. When I got home, it became almost immediately clear that these new techniques and the new way of thinking was now a part of my repertoire, and it was rejuvenating all sorts of dishes. The course had a profound impact on the way I cook and think about food for one reason more than any other: I'm now so, so much more discerning about ingredients and technique. And, of course, I now can't cook anything at all without putting all the ingredients in little ramekins first. I just can't.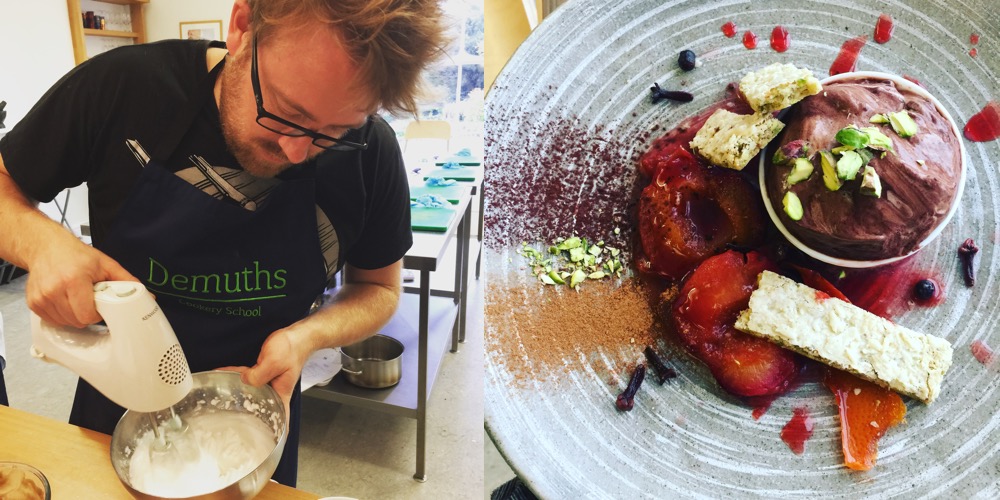 Vegan Gourmet is one of Demuths most popular classes but they also run a range of other vegetarian cookery courses that also offer plenty of plant-based inspiration. Visit Demuths' website for more information about their courses and their impressive collection beautiful vegetarian recipes.
For a sampler, here's the recipe for that awesome braised fennel and shallot dish I mentioned. Enjoy!
---
Braised Fennel and Shallots
Recipe courtesy of Demuths Cookery School
Serves 4
Ingredients
2 heads of fennel
2 banana shallots, peeled
1 tsp sunflower oil
1 tsp sugar
¼ tsp salt
3 tbsp olive oil
8 cloves garlic, crushed open and peeled, but left whole.
2 tbsp capers
2 tbsp pitted kalamata olives
½ lemon juice and zest
2 tomatoes, chopped
2 sprigs thyme
100ml vegetable stock
Method
Cut the fennel and shallots into wedges. Rub the sunflower oil, sugar and salt all over them.
Heat a teaspoon of sunflower oil in a large frying pan and fry the fennel and shallot on a high heat until golden. Remove them from the pan and put to one side for later.
Gently heat the olive oil and fry the garlic on a very low heat until starting to soften and colour slightly. Add the capers and fry for a minute, then add the olives, lemon and thyme and chopped tomatoes. Place the fennel and shallots back in the pan, add the stock and place a lid over and cook on a gentle heat for 15 minutes.  Remove the lid and turn up the heat, simmer until the sauce is reduced and coating the fennel.
Tips: As a garnish use a peeler to shave some raw fennel, place in iced water for 30 minutes to curl and crisp up.