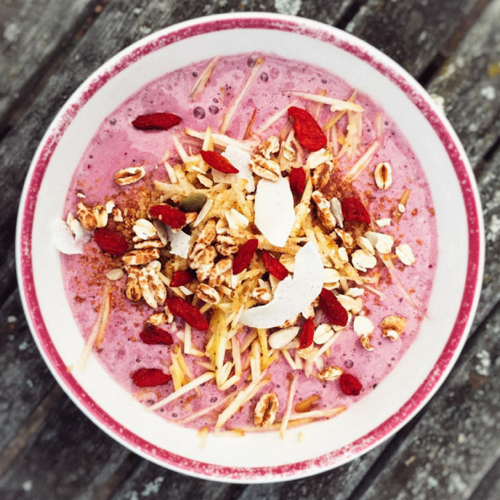 As previously mentioned, I live in a place called "Orchard Cottage", so called because there's an old English orchard right outside of my backyard. Right now, the orchard is in full swing. And while the apples fall, wild blackberries take over the hedgerows, which sees me staining my hands and stockpiling the freezer with fruits to last me through the winter.
Throughout all of this harvesting and autumn worship, this smoothie has become my go-to blend to follow my afternoon Crossfit sessions. The apples and blackberries make the perfect sweet base, while yogurt adds creamy probiotic deliciousness. I also include unflavoured whey protein to amp up the protein levels, though you could leave it out if you wish, and double the yogurt to make it more substantial.
For protein powder, I recommend Pulsin's Organic Whey Protein made from rBHG hormone free milk from organically reared cows. Also, no additives, flavourings or fillers. And it blends like a dream.
Yogurt & Berry Protein Smoothie
Ingredients
1 apple, cored and chopped (a banana also works)
a handful of blackberries, ideally frozen (blueberries, raspberries, and strawberries, or a combination of berries, also work)
150g yogurt
15g unflavoured whey protein (I use Pulsin's Organic Whey Protein)
1 Tbsp psyllium husk (optional, adds fiber and makes it thicker)
1 tsp flax seed (optional, also adds fiber and thickness)
Method
Put everything in your blender and blend until smooth, about 20 seconds. (If you're using psyllium husk, I usually wait a minute or two and give it another quick blender, as the psyllium husk will have absorbed some of the liquid in the smoothie, and an extra blend will make it all smoother.)
Serve in a cup (or bowl!) with your favorite garnishes (I like grated apple, muesli, and a sprinkle of spirulina powder, liberally applied and then reapplied as I eat it!).
Nutrition: 234 Calories | 10g Carbs | 0.5g Fat | 22g Protein
This was made with my Optimum 9200 Power Blender which has a super-handy 20-second timer setting which I use to make this. I hit the button once, clean up, make some tea, then hit it again and out comes a perfect yogurt and berry smoothie.