I created this meatless meatball (or "neatball") recipe years ago inspired by the fantastic "Neatloaf Sandwich" served at Victory's Banner restaurant in Chicago. It became a bit of a family favourite, particularly in the form of a sloppy sub sandwich with tomato sauce and giardinera.
I was recently inspired to revisit this recipe when prompted by my lovely client A Little Bit Food Co to craft some vegan recipes for their new range of fresh herb sauces and marinades. These tasty balls immediately came to mind!
My neatballs are based on three ingredients: carrots, walnuts and tofu. The walnuts contribute to a savoury richness while the carrots add a subtle sweet balance. Here's a few other things I love about these neatballs:
It uses no breadcrumbs or other bread products – many similar recipes use something floury to bind everything together, and you end up with more of a bread-ball than a neatball. And since neatballs are destined to go with pasta or some good bread, adding more carbs to the mix seems like overkill. This recipe is all tofu and veggies – carbophobes rejoice!
Their flavor is heavenly – the aroma and deep flavor of the walnuts perfectly compliments the sweetness of the carrots. And you can take it further by toasting the walnuts before assembling the neatballs.
The outside is nice and crispy but the inside is moist and firm.
They hold their shape very well, without crumbling apart as soon as you stab a fork into them.
Of course, what makes these neatballs come alive is a good tomato sauce and some good pasta or homemade bread. For the sauce, we love the salsa pronta recipe from Fabrizia Lanza's Coming Home to Sicily. As to store-bought options, I can definitely vouch for A Little Bit's tomato sauce range – the Fresh Sage & Spicy Tomato are a particular favourite.
One of my fondest neatball memories is this deliciously sloppy sub sandwich (circa 2009! My photography skills have advanced somewhat…):
Mind the mess – but isn't that what a neatball sub is all about?
Also tasty is the classic spaghetti (or courgetti) and neatball pasta dinner (a glass of red wine and a nice salad help make it complete!). I suspect this same mixture would also do well as a stuffing for cannelloni, pasta shells or manicotti. Or as a filling in vegan lasagna.
Carrot and Walnut Tofu Neatballs
A food processor really comes in handy for this dish. You can even use it to do all your chopping. But you can do without if you finely chop your veggies! Some fresh herbs really kick this up a notch – as does a bit of wild garlic pesto! 
Ingredients
1 Tbsp olive oil
4 cloves garlic, minced
1 medium red onion, coarsely chopped
3 carrots, grated
1 cup walnuts
450g firm (not silken) tofu
2 tsp basil
1 tsp thyme
1 tsp oregano
juice from 1/4 lemon
olive oil for greasing
salt and pepper
good tomato sauce
your favourite pasta, bread or spiralised courgettes
Method:
Before you get started, wrap the tofu in a clean tea towel and place a heavy weight on top (e.g. a plate with a couple books on top). Leave for at least 30 minutes or up to several hours. This step helps expel moisture from the tofu and make for a firm meatball that doesn't fall apart.
Preheat the oven to 350F / 180C.
Saute the garlic, red onion and carrots in the olive oil until soft.
In a food processes, blitz the walnuts until they are roughly ground.
Add the tofu, herbs, lemon juice and sauteed veggies. Blend until everything is about the size of breadcrumbs.
Add a good pinch of salt and a generous grind of fresh black pepper. Taste and add more seasoning as needed You're looking for something deeply savoury with a touch of sweetness. You may also wish to add more lemon juice to pull out the flavour of the carrot and onion.
Form the mixture into balls (I like to make mine fairly small, about the diameter of a 50p coin) and place on a well oiled cookie sheet or roasting pan.
Bake for about 15 minutes. Rotate the balls and return to the oven for another 15 minutes, until golden.
While the tofu meatballs are baking, heat up the Fresh Basil and Tomato Sauce in a small saucepan and cook your pasta (or steam/sauté your spiralised courgettes).
Serve with your favourite toppings: can't go wrong with parmesan, and of course, giardiniera!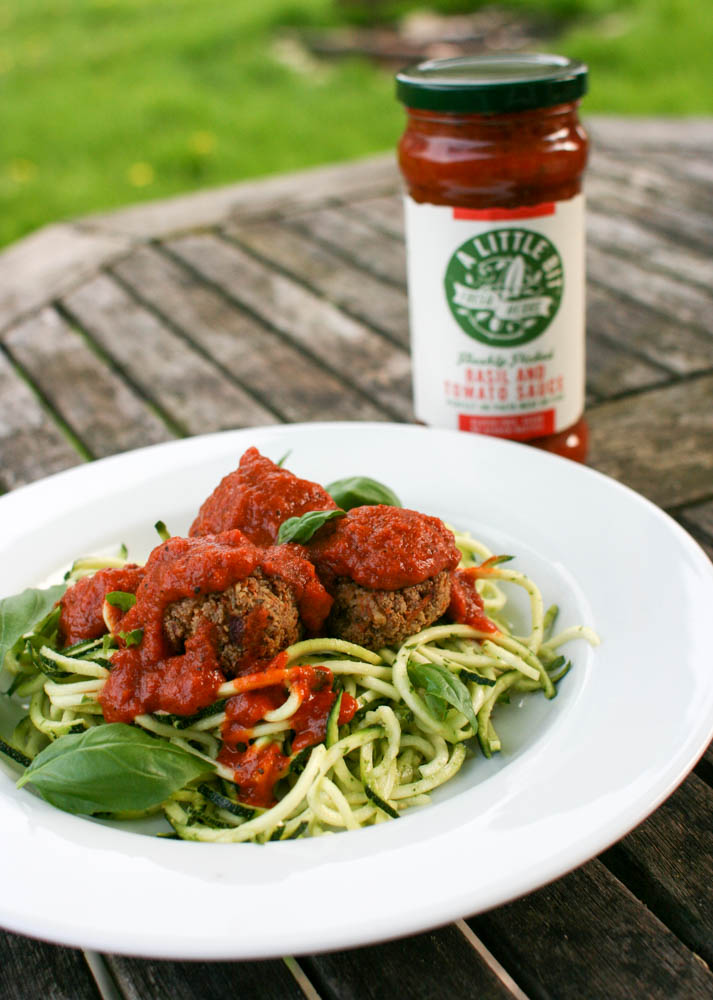 Also featured on alittlebit.co.uk.