Giardiniera is a spicy mixed vegetable pickle flavored with garlic and oregano that's popular in my home town of Chicago where it is often served on Italian beef sandwiches. The name comes from the Italian word for "from the garden", and you can see why:
I wish I could remember my giardiniera origin story, but I've loved this stuff for so long that I can't remember where the love affair began. In my family, giardiniera is one of those "good with everything" foods that sits alongside ketchup and mustard and other condiments to always keep on hand. We love it on pizza and sandwiches, and I've recently discovered that it's stellar with hummus. My love for giardiniera took on new heights when my sister and I learned to make it ourselves several years ago.
It had been a while since I made giardiniera, but a "relish platter" of epic proportions at last December's Camont Christmas party reignighted my fervor. Granted, it wasn't just the giardiniera, but the context of the situation: a happy day hallmarked by lots of cooking, good vibes, great friends and, the surprise element, an unlikely wine pairing that took the giardiniera to new levels of pickle heaven.
The wine, chosen by my friend and wine enthusiast Neil, was a vin jaune, a sherry-like white wine made in the Jura region in eastern France. Unlike sherry, vin jaune is not fortified, but like sherry, it's quite beautiful, especially with the right food.
Neil posited that his chosen vin jaune, a 2008 Domaine Macle, "would have the strength to battle pickled items and hold its own". It totally did. Neil described the flavor of the wine as having "deep gold with notes of almond, bread dough and a lingering sweetness…dry, with a creamy mouthfeel while still remaining somewhat light".
I got the almond, and the sweetness, and the creamy mouthfeel (I aspire to have a pallet refined enough to pick up "bread dough" in my wine). All agreed it was a total treat and worked with the giardiniera amazingly well. For me, it took the giardiniera out of the bowl and turned it into an unforgettable story. They should write children's books about these moments (just think of the illustration opportunities).
I enjoyed the experience so much I brought a bottle of vin jaune back with me which I'm saving for another yet to be determined giardiniera moment (pickle-themed dinner party, maybe?).
Since Christmas I've been making a big jar of 'giard' every couple of weeks – one of these jars was polished off between Mehrunissa and I in a single evening (for the record, we felt amazing the next day!).  Giadiniera is very easy to make and once you get into the rhythm of it, you can knock up a jar in no time, tweaking the ratio of vegetables to suit your fancy (I like LOTS of cauliflower and carrots). You can also play around with the herbs. I like to keep it simple with oregano, but you could also add celery seed, chilli flakes, whatever inspires you. In France, Kate and I replaced some of the vinegar with pickle juice and rice wine vinegar (because it's what we had to work with, such is the way we cook in Gascony!) which added a fun twist.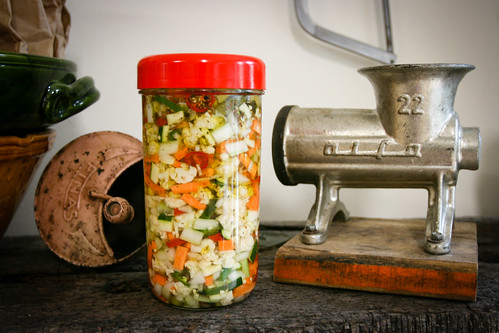 You do need to brine the vegetables overnight and ideally let it sit for a few days to marinade. To be honest, there hasn't been a single instance this year when I've been able to wait those three days to eat it.
Things I like with giardiniera include:
Omelettes (especially onion, mushroom and sauerkraut omelettes served with avocado)
Hummus (use giardiniera as a garnish)
Mufaletta sandwiches
Veggie hot dogs (not that we should ever feel guilty about food, but this is totally a guilty pleasure)
On its own as a snack!
Hot Giardiniera
Feel free to adjust the quantity of vegetables to suit your liking. Once you've chopped everything and mixed it in a bowl, you can look at the mix and decide if you want to up the quantity of anything – I almost always add a bit more carrot and cauliflower. The red chilli flakes are optional – if your jalapeños aren't very spicy, you might want to add them to up the heat factor a bit. As to chopping the vegetables, the size is up to you – sometimes life calls for a finely chopped giardiniera (great for putting on sandwiches, hot dogs, etc) but chunky giardiniera is best for the relish platter. 
 
Ingredients
2 green bell peppers, diced
2 red bell peppers, diced
8 fresh jalapeno peppers, sliced
1 celery stalk, diced
1 medium carrot, diced
1 small onion, chopped
1/2 cup fresh cauliflower florets
1/2 cup salt
water to cover
2 cloves garlic, finely chopped
1 tablespoon dried oregano
1 teaspoon red pepper flakes (optional)
1/2 teaspoon black pepper (optional)
1 (5 ounce) jar green olives, sliced (optional, omit if you don't like olives)
1 cup white vinegar
1 cup olive oil
Method
Place into a bowl the green and red peppers, jalapenos, celery, carrots, onion, and cauliflower. Stir in salt, and fill with enough cold water to cover. Place plastic wrap or aluminum foil over the bowl, and refrigerate overnight.
The next day, drain salty water, and rinse vegetables. In a bowl, mix together garlic, oregano, red pepper flakes, black pepper, and olives. Pour in vinegar and olive oil, and mix well. Combine with vegetable mixture – if the liquid doesn't cover the vegetables, add some more olive oil and vinegar in equal proportions until the veg is totally submerged.
Cover, and refrigerate for 2 days before using (if you can wait this long!).
Related links: