Last weekend marked the halfway point between Winter Solstice and Spring Equinox , a festival called "Imbolc" in the parlance of the "Wheel of the Year".
Have I lost you already? What is this Wheel?
The Wheel of the Year, in a nutshell, is an annual cycle of seasonal festivals observed by many modern Pagans (Wikipedia). Don't panic – I've not gone all Wiccan on you, despite my fixation with stone circles and wearing capes. In fact, I find the whole God and Goddess aspect of the wheel – and the spells and chants – a little uncomfortable. However there is much to the Wheel that I have latched on to, which comes down to what I always latch on to: science!
The Wheel of the Year is based on the actual movement of the sun and how it effects the seasons. Festivals occur on the solstices (longest and shortest days of the year), equinoxes (days when the day and night hours are equal) and the four midpoints in-between.  Why not use this cycle to hallmark our own lives? It seems all the more important in this day and age when, surrounded by all these marvels of technology and modern society, it is easy to become divorced from nature. And yet, the seasons impact everything around us and thus our feelings throughout the year (anyone who gets a bad case of SAD every winter knows this well).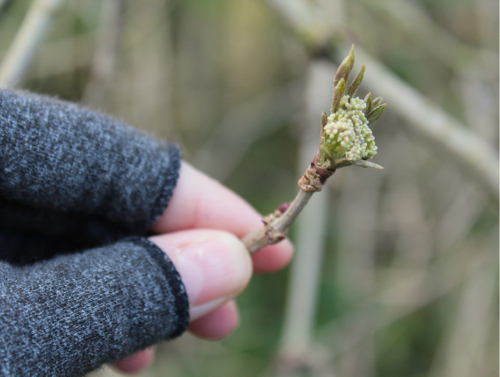 Elderbud – a small sign of spring! Picture by Emily.
I like the Wheel because it helps me connect with what's going on in the world around me, and offers structure by giving me "checkpoints"  through which I can track my own projects and my progress towards my goals.
I've been following along with the Wheel since Summer Solstice 2013 with my friend Emily (see this post which I like because at the time I wrote it, I don't think we realised that we'd become total Wheel converts, but the "buds" of the Wheel are there!).
Back to Imbolc.
Imbolc celebrates the first, barely discernible, beginnings of spring, the first stirring of buds and the gradual lengthening of days. It is the glimmer of hope for brighter days ahead! It's a time to clear out old habits (hello spring cleaning) and get ready for the new season. It's time to set into motion – slowly – all of those projects and intentions we set ourself over winter.
The etymology of the word "Imbolc" is a little unclear, but most scholarly people agree it has something to do with ewe's milk, thus making sheepy things a common symbol of this festival. What a great excuse to discover alternative dairy products to the usual moo cow!
I celebrated Imbolc last weekend with Emily and a few other good friends. Going into the weekend, I wasn't sure what Imbolc "meant to me", aside from a good excuse to practice a new seasonal cocktail (at some point I'll reveal the "Prosecco Plus"), eat sheep cheese, create awesome kale salads with sheep yogurt dressing, and make marmalade. But by the end of the weekend, with the help of my friends, I think I've worked out a few things (not the least of which were a few new cocktail recipes)…
Last winter I picked four big projects that I would focus on this year, loosely termed Outdoor Adventure, Smarter Fitter, Financial Freedom and Fittest Self Ever. I'm an impatient person, so coming around to Imbolc I felt a little ho-hum about my progress with any of these items (except for perhaps the Ridgeway). (This was paired with an ongoing distraction I've felt ever since the holidays due to both workload and "figuring life shit out" type stuff.)
Imbolc was a reminder that winter is not the time to go all gung ho on productivity and personal development. I liked Rachel Demuth's post on winter comfort food which sums this up in the context of "detoxing:
"It always baffles me that January is considered the month for "detoxing" or eating lightly. Yes, many of us probably indulged a bit over the holiday season, but this definitely isn't the time for a supper of six raisins and lettuce leaf!".
Winter is a time for hunkering, hibernating and nourishing the body so that we're ready to take on the world when the sun and Spring finally come around.
But now the days are getting longer and new buds are just starting to appear on the trees and in the hedgerows. Imbolc, for me, means it's time to wake up from winter hibernation and start making steps to setting my own projects into motion. Again, the dark days of winter are still very much in evidence, so let's not rush anything. But let's bust out the broom and get things ready to rock this spring.
My Imbolc to Equinox plans include
Spring cleaning – I want to declutter the things you can't see (closets, cabinets, drawers)
I have hired a nutritionist to help me get my diet sorted for Fittest Year Ever – more on that later
I have already taken steps on the Ridgeway which I'd love to complete in the next few months. I also need to set dates for Pembrokshire and France Cycle Touring this summer.
I have a list of things I want to write about on SmarterFitter that I will now turn into an actually "content" plan with dates and deadlines.
I've put a date in the calendar for budget day, which fills me with dread but it has to be done. I want a solid savings plan in place by Equinox (March 20). Financial Freedom or Bust.
Another cringer: I need to redo my website monicashaw.com to reflect my new business focus on web analytics (i.e. Financial Freedom). This is totally outsourcable, and I've even found someone to do it, but I still need to manage the project – can I outsource that, too?
Getting to the bottom of gelatization
The Weekly Wheel!
The Weekly Wheel
 
Another thing to come out of Imbolc is a project that's been stewing for a while: The Weekly Wheel is a secular website and newsletter that's all about how to use the cycle of the seasons to hallmark your own life. Subscribe now!
Stay tuned for some further reflections on Imbolc discoveries, including breakfast martinis, smoothie bowls, Old Bay salad dressing and chia pudding. 
Related links: