My blender is without a doubt the most popular gadget in my kitchen. I use it at least once daily for smoothies, and often again for soups, dressings, spice blends, dips, hummus, pestos, and for a treat, cashew-based cheesecakes. My first power blender was a Vitamix. It was expensive (costing more than my first car, which admittedly was no Rolls Royce) but I've never looked backed. Since then I've been converted to the Froothie range of power blenders for their extra horsepower, more reasonable price-tag, and unbeatable warranty. A high-powered blender is an enabler. I've already achieved great results with the Froothie Optimum 9200 and Froothie Optimum 9400, so was very excited to try their latest model, the Froothie Optimum G2.1.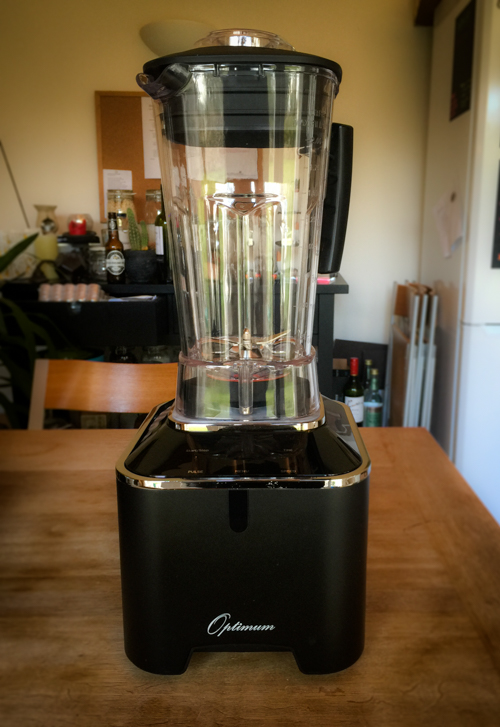 Froothie pitches the Optimum G2.1 as its most sleek, sophisticated and advanced blender to date, featuring an elegant LED touchscreen panel, six automatic one-push programmes as well as manual functionality, and a combo wet / dry 6-blade jug that can accomplish all sorts of blending tasks.  It's currently on sale for £399 making it about £150 cheaper than a Vitamix, with credentials that definitely err in the Optimum G2.1's favour, particularly the more powerful motor, the combo wet/dry jug, and the longer warranty.
But how do these credentials play out in practice? Let's face it, though cheaper than a Vitamix, the Optimum G2.1 is still a significant cash investment. I was keen to see how this blender compared to others I've tried, both expensive power blenders and more "cheapo" blenders alike.
Power
One of Froothie's biggest claims to fame is that their blenders can blend stones! Well, I can't say I tested this, but I did try blending my own nut flours and spice blends, both of which the Froothie handed brilliantly, turning both into a very fine powder, perfect for my recipes. It also seemed to do this quickly and effortlessly, meaning I didn't have to spend loads of time turning on and turning off the blender, scraping down the sides.
Jug
It may seem a small matter but the jug is a big deal when it comes to blenders. My Vitamix required separate jugs for wet and dry needs (e.g. a wet jug for smoothies and soups, a dry jug for grinding flour, spices and, um, rocks?). The other key difference is that the Froothie jug has a 6-blade assembly verses Vitamix's 4-blade assembly. The two extra blades are situated under the main 4 blades and allow the Froothie jug to better suck ingredients down and create a blending vortex. No more chunks of stuff left unblended in the blender!
Like the Vitamix, the Froothie also comes with at tamper tool that makes it easy to stuff things down into the blender WHILE it blends. Really handy for thicker blends like hummus and ice creams. Andrew is a massive fan:
Noise
Well, it's a blender. But it's not as noisy as you may think given its huge motor. I'd say it's comparable to the Vitamix and other blenders of its kind.
Heating ability
The Froothie Optimum G2.1 blender is so powerful that it can cook hot soups through the power of it's immense motor alone. Case in point: my Easy Blender Tortilla Soup.
Style
I admit that I have always been a fan of the Vitamix's simplicity. But the Froothie Optimum G2.1 is SLICK. The LED touch panel is, in two words, super cool. And there are nice little touches like the blender beeps every time you remove the jug. If you want to feel like you're on the bridge of the Starship Enterprise while making your smoothies, this is the blender for you.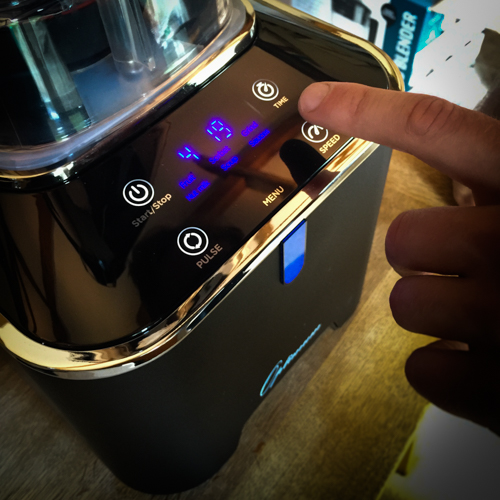 One Touch Programmes
Something I've grown to love is the ability to set the speed and time and get on with other business while the blender does it's thing. It's a small luxury but it's that extra bit of effortlessness that enables frequent usage of the Froothie Optimum G2.1. There are one-touch programs for sorbets, nut milk, soup, sauces, smoothies, and nut and seed flours. See what I mean? Star Trek!
Reliability
I've been using the Froothie Optimum G2.1 several times daily for the last three months. Andrew and I use it at least a combined 3 times daily for our pre- and post-workout smoothies. We also use it regularly to grind spices, hummus, baba ganoush, raw cheeses and cheesecakes, the list goes on. Here we are making salsa macha, a Mexican blend of spices and nuts – the Froothie Optimum G2.1 handles it with aplomb!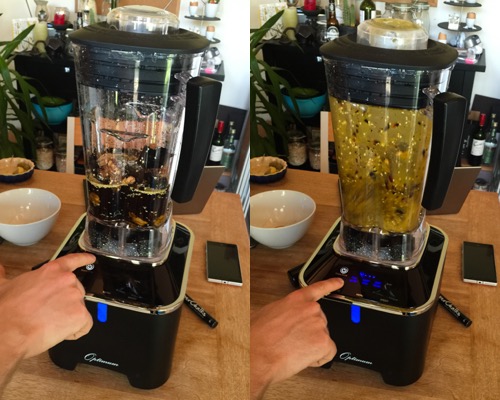 Other benefits of the Froothie Optimum G2.1 blender
30 Day Free Trial with a Money Back Guarantee (including return postage)
10 year warranty on the motor and 5 year warranty on parts
Pretty awesome support team who are super responsive
A free recipe book and nut milk bag because, yeah, recipes and nut milk rule!
At present the Froothie Optimum G2.1 blender is on sale for £399.00 (from £599.00). Not a bad deal!
If you're looking for some awesome blender recipes, check out my smoothie recipes or go make some hummus because you can never go wrong with hummus. Also, you need salsa macha in your life. Seriously.
Disclosure: I am an ambassador for Froothie and some links in this article are affiliate links. But hey I'm not biased! All product reviews are based on my honest opinion. If you'd like to know more about Froothie blenders and juicers, or this machine in particular, please visit the Froothie website for more details.