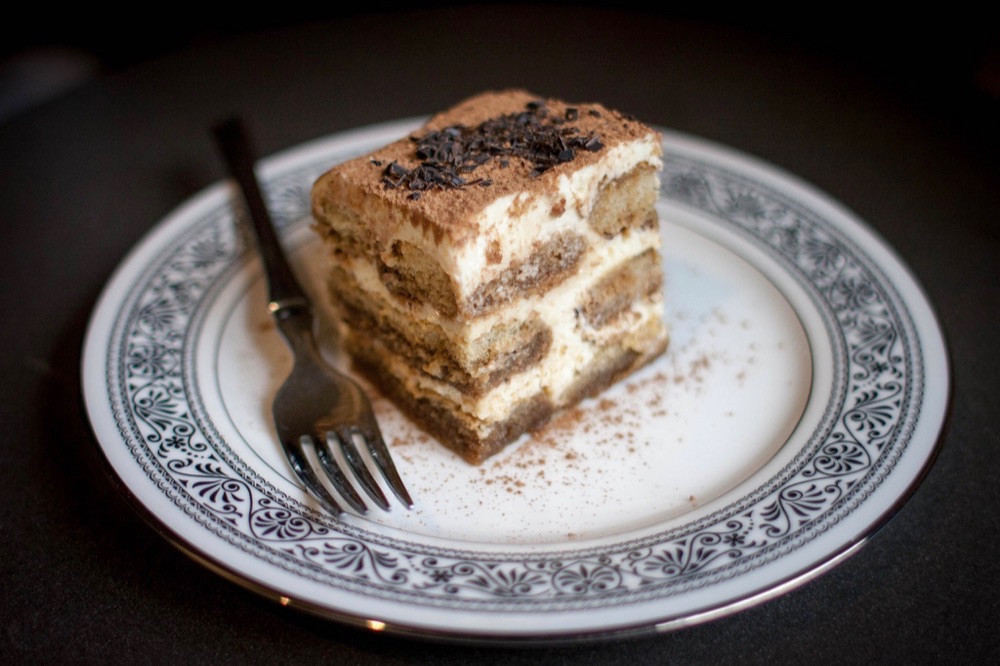 Tiramisu is one of my all-time favourite desserts. Coffee. Booze. Cream. What's not to love? But all too often corners are cut – cheap booze is used, or too much sugar, or flavourless coffee – and the result is overly sweet and without any real depth. The real thing should be rich and strongly flavoured with coffee, vanilla and Marsala wine. So this being my birthday month, after all, I set off to master tiramisu.
One could be forgiven for cutting corners here. If you are starting from scratch, the catalogue of ingredients required is a bit pricy – lots of espresso coffee, eggs, marscarpone, sponge fingers, and particularly the Marsala wine (not to worry, you can use the extra Marsala to make Zabaglione Ice Cream).
The other challenge is the coffee. You need plenty of good quality espresso for soaking the lady fingers. You could go to a good coffee shop and have them brew it for you (I actually did this which was pricy and not even very good), but you could also brew it yourself at home which gives you some control over the exact flavour profile of the coffee. For example, if you're lucky enough to have a Nespresso machine, Gourmesso coffee makes a huge range of espresso blends you can experiment with. In a pinch, you can also get away with Medaglia D'Oro instant espresso which is surprisingly good. All of this may sound overly pedantic but good espresso will give your tiramisu an edge over the rest.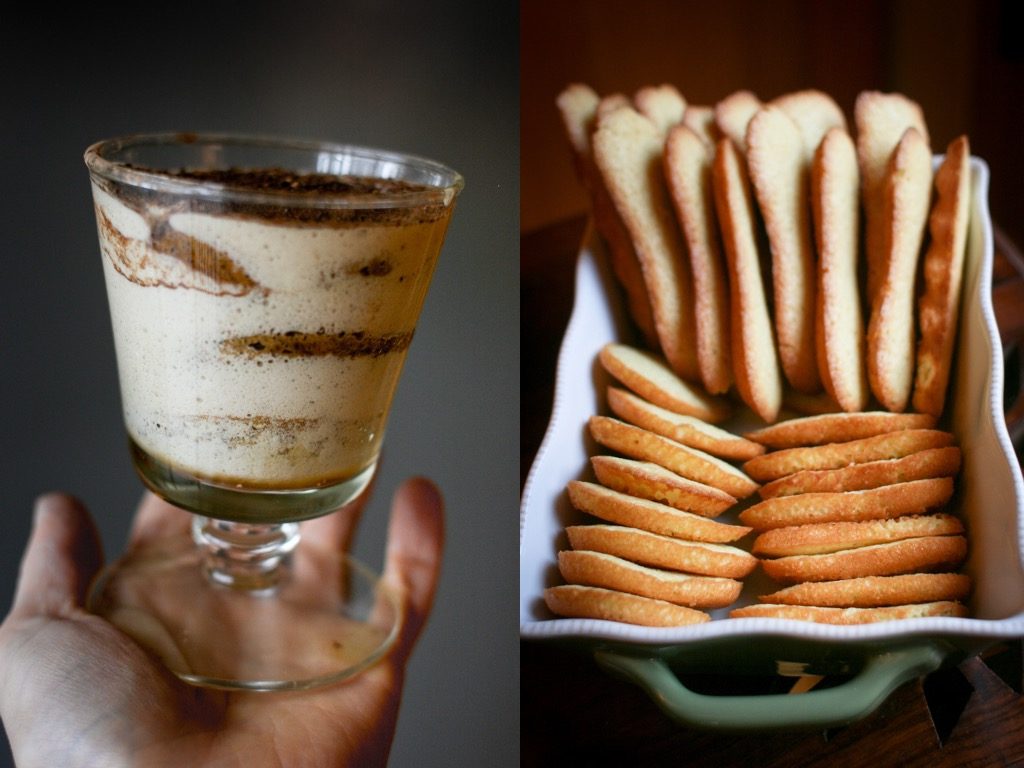 The sponge fingers (aka lady fingers / savoiardi biscuits) presented a small challenge for me. I tried to make homemade lady fingers but they turned out a bit flat and uninspiring. I ended up buying some decent Italian-made lady fingers from the supermarket which worked just fine (one small corner cut perhaps but in cases like this it is perhaps sometimes best to let the pros do the work for you!).
I experimented with quite a few recipes, and even made a jellied version of tiramisu just for kicks, but ultimately settled on this recipe adapted from Demuths Cookery School as my favourite. You can make it in one big pan but it also looks extra special layered into individual clear tumblers. Try it as a semi-freddo, half frozen, perfect for summer!
Tiramisu
Serves: 6-8
For the cream layer:
4 egg yolks
80g sugar
1 tsp vanilla extract
250g mascarpone
250ml double cream
3 tbsps Marsala wine
For the ladyfingers:
24 lady fingers / savoiardi biscuits
80g sugar
300ml good espresso coffee
2 Tbsp coffee or chocolate liqueur
2 Tbsp brandy
Everything else:
100g dark chocolate, peeled into curls
4 Tbsp cocoa powder for dusting
Method:
Whisk the egg yolks, sugar and vanilla extract together in a bowl over steaming hot water until pale and doubled in volume. Whisk together the mascarpone, double cream and Marsala together until thick. Whisk the two mixtures together.
Make up the dip for the sponge fingers. Dissolve the sugar with the hot espresso then add the liqueur and brandy.
Dip the sponge fingers into the coffee mixture, so that they evenly absorb the liquid. You want the sponge fingers to absorb as much liquid as possible without turning soggy.
Line the base and sides of a large bread tin with a strip of baking parchment long enough to hang over at the ends. This will enable you to easily lift the Tirimisu out of the tin to serve.
Aim to make 3 layers of mascarpone and 3 layers of biscuits with 8 sponge biscuits on each layer.
Start with a layer of biscuits, sprinkle over a little dark chocolate and a dusting of cocoa. Spread a layer of the mascarpone mixture all over. Arrange 8 more sponge biscuits on top, more chocolate and cocoa, then another layer of mascarpone and another layer of biscuits, then the last of the chocolate and some more cocoa.
Finish with a mascarpone layer and sift on the remaining cocoa powder.
Chill and leave to set in the fridge for at least a couple of hours. The Tirimisu improves over time and is very good served the next day.
To serve take it out of the tin using the baking parchment tails, serve on an oblong white serving dish cut into thin slices.